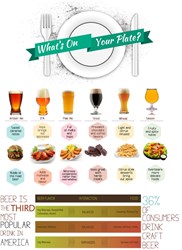 Tucson, AZ (PRWEB) December 11, 2013
Locally owned and independent brewery, Thunder Canyon Brewery, unveiled its food pairing guide to assist customers in finding the perfect brew to pair with everything from beef bourguignon to chicken wings.
Thunder Canyon Brewery has separated their beers into eight distinct flavor categories, and under each category are a few corresponding types of beers accompanied by complementary food pairings. Because Thunder Canyon Brewery has over 40 beers on tap, including 12 handcrafted beers, the brewery has created this chart to help customers choose the brewery's fresh cuisines with the right beer to offer the perfect flavor compliment and a full dining experience.
The Food and Beer Chart helps customers navigate pairing dark, deep beers with the hearty pork shoulder, and strong, and fruity ales with their seafood, or their famous spicy Hurricane Pizza. Even bitter, earthy, hoppy beers find easy pairing with Monsoon Mushrooms and Not Really Buffalo Burgers.
Visit Thunder Canyon Brewery to start your journey as beer connoisseur.
About Thunder Canyon Brewery

With more than 40 beers on tap, Thunder Canyon Brewery has one of the largest draft beer offerings in the Tucson. Along with 12 handcrafted TCB beers, we also include a large catalog of local and national microbrews on draft. Thunder Canyon Brewery is Tucsons most award winning brewpub. One of the areas first breweries, customers flock to TCB for our award-winning handcrafted beers and fresh, homemade cuisine.
The lively, family-friendly atmosphere makes TCB a welcoming spot for people looking for great beer, great food, and a great time.
For more information and hours of operation, please visit http://www.thundercanyonbrewery.com.
About Nuanced Media:

Nuanced Media is a digital marketing and graphic design firm. The company specializes in strategic, multilayer marketing campaigns and efficiently crafted, user-friendly websites. Based in Tucson, the company has a variety of clients throughout Arizona, California, and Texas. For more information, please visit Nuanced Media.