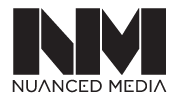 Tucson, Arizona (PRWEB) April 14, 2013
Nuanced Media is an online marketing, business consulting, and website design agency that improves the online presence and marketing strategies of Local businesses. Based out of Tucson, Nuanced Media continues expanding to adapt to the Phoenix and Mesa areas as well.
A primary focus in their services is to make the websites of their clients stand out on the internet, making them more apparent to potential customers. The method by which they do this is called Search Engine Optimization.