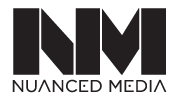 Tucson, Arizona (PRWEB) April 16, 2013
Nuanced Medias CEO Ryan Flannagan has adopted an old school method to the web design craze. Through personalized websites, Nuanced Media treats each customer like their only. The Nuanced team looks to impress with amazing custom graphic design but also supports the webpage on the SEO optimization.
Nuanced Media is an online marketing, business consulting, and website design agency that improves the online presence and marketing strategies of Tucson businesses.

The services of Nuanced Media are affordable and timesaving. With careful consultation they reduce time otherwise spent on frivolous marketing tactics, and with their web traffic experts Nuanced Media maximizes the Search Engine Optimization of a Tucson website to tune it to the best possible web viewership.
With the help of Nuanced Media, Direct Cellular is proud to release their new website. Direct Cellular has its eyes set on becoming the largest phone distributor in the greater Tucson area. Direct Cellular offers low monthly plans including basic and value plans.

Direct cellular also offers financing options tailored to the customers needs. Specialized phone financing is another aspect where direct cellular separates from the competition.
About Nuanced Media:

Nuanced Media is a revolutionary marketing, website design and business consulting website. We pride ourselves in our hard work and dedication to drive more consumers towards your webpage. Through social media marketing, search engine optimization, and personalized graphic design we ensure that your company will love our work.
Follow us on Facebook and Twitter