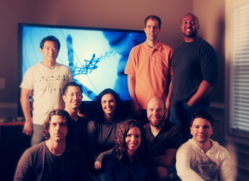 Atlanta, GA (PRWEB) February 01, 2013
Nucleus Medical Medias animation team was recognized in the National Science Foundations International Science & Engineering Visualization Challenge for the 3D medical animation Fertilization.
The animation details the beginnings of life at a cellular level with clear, interesting, and easily understandable narration. Few narratives in biology are so iconicor so frequently portrayedas the epic voyage of the beleaguered sperm to the defensive egg. In most videos about human fertilization, however, "you see little parts of the journey, and then suddenly you see the sperm entering the egg," says Thomas Brown, Chief Creative Officer of Nucleus Medical Media. "It's beautiful, but an incomplete and inaccurate story."
Given new developments in the science of conception, as well as advancements in digital media, his team decided it was time for a remake. Fertilization' starts with 300 million sperm, following their perilous journey up the cervix and into the fallopian tube with unprecedented detail and continuity, Brown says. By the time the last few dozen surviving sperm reach the egg, they're famished and troubled, but hopeful." In a new twist based on recent science, the first sperm to reach the egg is rewarded with an embrace, as the eggs inner membrane encloses and absorbs it.
In a release from the National Science Foundation, Colin Norman, "Science" magazine's news editor commented on the high caliber of entries received in the competition: This year's winning entries are a spectacular collection. Each one exposes a hidden facet of the natural world, or puts scientific concepts in a new light. And they use cutting-edge techniques to draw the viewer in.
Were very proud of our team of animators, designers, writers, and project mangers at Nucleus, says Ron Collins, CEO and Cofounder of Nucleus Medical Media. This award reflects the amazing talent, creativity, and hard work of Thomas Brown, Stephen Boyd, Mary Beth Clough, Kelvin Li, Erin Frederikson, Eric Small, Walid Aziz, Nobles Green, and the rest of our remarkable team.
The Fertilization animation is just one of many available to view for free at Nucleus Medical Medias YouTube channel, promoting the Nucleus mission of health literacy across all barriers.
###
For further comment, contact Ronald Collins, CEO and Cofounder of Nucleus Medical Media, at rcollins(at)nucleusinc(dot)com or (770) 805-0460.
About Nucleus Medical Media
Founded in 1997, Nucleus Medical Media, Inc. is an award-winning creator of medical illustrations, medical animations, and interactive multimedia for the publishing, legal, healthcare, entertainment, pharmaceutical, medical device, and academic markets. Nucleuss clients and partners include WebMD, McGraw-Hill, Dr. Oz, EBSCO Publishing, and thousands of other businesses in new and traditional media. Nucleus employs the worlds largest team of graduate-degreed medical illustrators, and has a Medical Review Board with more than 75 physicians and nurses. For more information, click here to visit the Nucleus website.