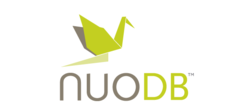 Cambridge, Massachusetts (PRWEB) February 13, 2013
NuoDB, Inc., a startup offering the industrys only patented, elastically scalable Cloud Data Management System (CDMS), announced a webinar series on how to manage data in the cloud.
The first webinar in the five-part series will be held on February 19 at 12:00 p.m. EST. Barry Morris, CEO and Co-Founder of NuoDB, and Tony Baer, Principal Analyst for Enterprise Solutions at Ovum, a leading technology analysis firm, will discuss why a Cloud Data Management System (CDMS) matters to businesss bottom line.
The one-hour webcast entitled The New World of Cloud Databases will cover the following topics:


Cloud database adoption, challenges and opportunities
What it means to be in the Cloud vs. on the Cloud
12 Rules for a CDMS
NewSQL vs. NoSQL vs. SQL
A live question and answer session.
At NuoDB we are often asked about the differences between a CDMS, a 1980s RDBMS and a simple non-SQL store. Weve created this webinar series featuring independent analysts and industry leaders to address these questions in the marketplace, stated Morris. I expect a lively debate with Tony Baer in our first session.
The next webcast will feature a leading cloud infrastructure provider.
Registration is required.
About NuoDB

NuoDB, Inc., is a Cambridge, MA-based startup that provides the industrys patented, elastically scalable Cloud Data Management System (CDMS). Unlike every other database, NuoDB is architected to scale out effortlessly on the cloud without compromising any of the features or guarantees of relational databases.
NuoDB was launched in 2010 by industry-renowned database architect Jim Starkey and accomplished software CEO Barry Morris. For more information, visit us at http://www.nuodb.com.