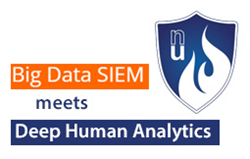 Commerce, MI (PRWEB) May 01, 2015
Nuspire Networks, the leading provider of state-of-the-science network management and security solutions, today announced its ongoing efforts to integrate Big Data analytics with correlation and human analytics to deliver a new level of security monitoring and management to customers. The integration of Security Confidences logMojo technology into trax, Nuspires security event, management, ticketing and tracking system provides enterprise customers with never before seen capabilities to manage, monitor and act upon billons of disparate data points from devices, networks and systems across the globe.
With an increasing number of devices and communications channels, and the expansion of the Internet of Things (IoT), more information and log data is being generated by businesses than ever before. This is especially true of companies with dispersed networks, such as franchises, retailers, healthcare organizations and many more. Storing and mining this data is often an insurmountable task causing organizations to demand simplified, cost-effective IT solutions to help tackle the growing Big Data challenge.
Early SIEM technology used to amass security log data was limited in its ability to simply and easily aggregate data in groupings for analysis. To address the challenges this early IT presented, relational databases became more common place as they allowed businesses to easily group information and provided simple, fast access to the data. However, businesses quickly learned that relational databases do not allow for quick changes to the data structure and retention processes, making it difficult for organizations with quickly changing technology landscapes to use.
"As many organizations evolved to begin utilizing relational database to store security logs, it was soon understood that the indexes which enabled the speedy retrieval of information made the process of storing data very slow," explained Matt Corney, CTO of Nuspire Networks. "In addition, making significant changes to the database was a stop the world event. During a database change, no new logs could be stored, causing significant delays in data visibility that can take huge amounts of time to recover from. Basically, the world stopped, or the recording of it did, and because of this a relational database is no longer a viable option for large dynamic enterprises. It just does not scale."
Nuspire Networks specializes in security monitoring, management and remediation services for large organizations with many locations throughout the globe. Organizations with distributed footprints such as these need to collect, aggregate, store, query and then act upon billions of logs simultaneously. Nuspire found that most traditional SIEM solutions cannot handle organizations of this network magnitude. To overcome the challenges presented by traditional SIEM technology and relational databases, Nuspire Networks studied how other organizations manage massive amounts of information.
"We looked at how organizations such as Google, Facebook and LinkedIn manage massive amounts of data," said Saylor Frase, President and CEO of Nuspire Networks. "The answer wasnt a database at all it was distributed data processing and storage. logMojo is the only technology we could find that has a proven solution and architecture to support the volume of data generated by our customers."
"logMojo was built for the type of customers Nuspire needs to support," said Corney. "Putting cutting edge technology at the fingertips of some of the worlds leading security experts allows enterprise organizations to react in near real-time to security events on their networks anywhere in the world. Top tier people utilizing state-of-the science technology delivers a services not yet found in the security industry."
About Nuspire Networks

Nuspire is a state-of-the-science managed network security service provider with more than a decade of industry experience, providing services for some of the largest and most distinctive companies in the world. Nuspire is a true managed service provider that has moved beyond simple firewall maintenance and IDS monitoring to take responsibility for customer networks. Nuspire uses powerful custom-built management and monitoring tools, SIEM, IPS, in-line AV/Anti-Spyware, URL filtering, and content-aware firewalling. Available via a cloud-based or on-premise delivery model, Nuspire provides a comprehensive suite of security services focused to meet the needs of organizations with a geographically diverse footprint.
For more information on Nuspires solutions or partnership opportunities please visit: http://www.nuspire.com
About Security Confidence

Security Confidence, a Cincinnati, Ohio based Corporation, provides award winning business security solutions. Security Confidence has gained the trust of national and international businesses to protect them from Internet-based threats, ensure data protection and replication of critical assets and full Internet gateway visibility through its proprietary cloud-based SIEM Technology.