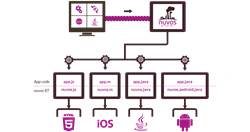 Guatemala (PRWEB) October 31, 2013
About the Demo
Kevin McCarthy will be hosting a 45-minute online session starting at 2:00 PM CST to explain to developers how to build apps with nuvos. The public demo app, to be released immediately prior to the presentation, will include examples of common app uses cases, and include full source code and documentation. Participation is open to worldwide users at no cost. To access the nuvos demo, users should create a free developer account at nuvos.com/signup.
About Java Day Guatemala 2013
The Java Day Guatemala 2013, organized by the Guatemala Java User Group, is an annual event that brings together leaders and enthusiasts of Java technologies in Guatemala and Central America. This is the third consecutive year, and now online international speakers and more sessions are going to be available while keeping the open and free admission thanks to the support of community members and local and international companies who believe in this event.
This year the event will take place on Saturday November 9th at INTECAP TICs from 8:00 AM CST (UTC-6) to 5:00 PM CST. People can also participate online with questions from the Google+ page of the JUG: Guate JUG – Google+
About the Speaker
Kevin McCarthy is the president and CEO of IntraMeta, where he leads the development of the nuvos SDK. He has been writing software and running start-ups for nearly 20 years.
While attending the University of New Mexico in 1994, McCarthy founded Atipa.com, developing a breakthrough e-commerce platform and building some of the industry's first commodity-based supercomputers for clients such as NASA and Los Alamos National Laboratories.
He has held many technical and executive roles, and has over 12 years experience as a Java architect and developer. Prior to nuvos, Kevin most recently served as the Chief Technology Officer for GroupSystems, designing and building ThinkTank: a real-time collaboration platform used by the world's top consulting firms with their most important clients.
About Nuvos
nuvos allows developers to write a single app that runs almost anywhere, without platform specific coding. Developers write apps in Java, using their standard development environment, with no additional SDKs. The nuvos cloud service then builds and tests their apps for multiple platforms. Developers then upload their fully native apps to popular app stores.
Users of nuvos can leverage a catalog of pre-integrated connectors to services such as Facebook, Twitter, and Twilio, or quickly develop adapters to existing web services, such as enterprise applications. By utilizing the nuvos build cloud, developers can publish to native mobile, native desktop, smart devices, or HTML5 all from one codebase. The nuvos SDK features advanced graphics and touch gestures to engage users, allowing developers to create fully-native applications with no requirement for interpreters or middleware, while unlocking full access to device capabilities.