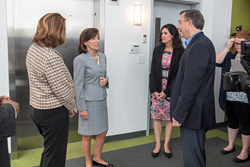 Saratoga Springs, NY (PRWEB) May 19, 2015
Informz, Inc., a leading provider of digital marketing solutions for the association and nonprofit markets, welcomed Lieutenant Governor Hochul and Mayor Joanne Yepsen with a tour of their 15,000 square feet corporate headquarters in Saratoga Springs.
Mayor Yepsen picked Informz to tour with the Lieutenant Governor to showcase a fast-growing company that is supporting upstate economic growth. Informz has been named to the Inc. 5000 list of fastest-growing private companies in America and to the Capital Regions fastest-growing companies list by the Albany Business Review. Informz has landed on these list because of its 63% increase in growth over the past three years.
Informz was founded in 1997 and currently serves over 1,300 organizations with 12,500 users worldwide. Specializing in solutions for associations and nonprofits, Informz offers a web-based email marketing, marketing automation, and transactional email platform. Currently, Informz employs 81 full-time employees with two open positions. Last year, Informz relocated from 92 Congress Street to the 19 Railroad Place facility to accommodate the companys future growth projections. Informz occupies over 15,000 square feet of the building including the entire third floor for their main offices and 3,200 square feet on the second floor which is slated for future growth.
We are honored to receive a visit from Lieutenant Governor Kathy Hochul and proud to show her our company, said Joe Tyler, CEO of Informz. Informz has experienced significant growth over the years and a key factor in that is the ability to attract top talent. Our location in the heart of downtown Saratoga Springs is important in our recruitment initiatives.
In addition to supporting local nonprofits such as The Franklin Community Center and Friends of Music, Informz CEO Joe Tyler also started Saratoga Tech Execs, a monthly networking meeting made up of top executives from local technology companies to support the growth of technology companies in and around downtown Saratoga Springs.
About Informz:

http://www.informz.com
Informz is a leading provider of digital marketing solutions for the association and nonprofit industries. The Informz solution provides customers with the tools and expertise to easily and cost-effectively promote their brands, stay in touch, generate and analyze data about their markets, manage information about their members and constituents, and receive valuable feedback to refine future action. The Informz portfolio of solutions includes a web-based email marketing, marketing automation and transactional email platform as well as a variety of consulting services.
###