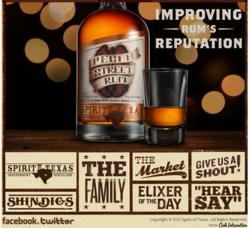 Houston, TX (PRWEB) February 18, 2013
Perhaps the fourth time is the charm. In Oak Interactives fourth straight year of entering the AAF Houston 51st Annual ADDY Award Show, the company was recognized with another Gold ADDY.
It was on February 2, 2013 when the company received a Gold ADDY Award, for their Spirit of Texas website. The site was developed for Spirit of Texas a Pflugerville, TX independent rum distillery. The AAF Houston ADDY Award Show represents advertising from the entire Houston area.
We are extremely happy with how well the Spirit of Texas site has been received, Oak Interactive Partner VP, Brand Management David Malamud said, We love working with brands that let us experiment, innovate and elevate our own standards for the web.
The Houston-based advertising company also received recognition with a Silver ADDY for their work on a website created for BBs Honey, an Alabama based honey company, known for harvesting honey naturally from hives.
Its always nice to be recognized. We try to do something new with each project, Oak Interactive Creative Director Daniel Szymanowski said, Winning an ADDY adds a bit more fire to the flame.
The company walked away with additional recognition for their newly created company responsive design website, which they launched earlier in the year. The site is completely responsive in design, allowing the integrity of the site to remain intact when viewed on desktop, tablet, or mobile a device.
The advertising company accepted the awards on behalf of Founder & CEO Moses Robles, Partner VP, Brand Management David Malamud, Creative Director Daniel Szymanowski, Art Director Jori Thompson, former Creative Director Jeff Long, Account Executive Dominic Dames, Ad Operations Manager Gabriela Campos and Search Marketing Specialist Griffin Long.
About Oak Interactive, LLC
Oak Interactive, LLC is a full service marketing communications company located in Houston, Texas. Oak Interactive develops and executes a full range of integrated advertising solutions aimed at helping its partners reach their business goals and objectives. Services include: strategic planning, media planning & buying, search engine marketing, display advertising, permission based email marketing, creative design and development. By offering a full-service solution, involving marketing, advertising and creative, Oak Interactive achieves results with minimal impact on the internal resources of its partners. http://www.OakInteractive.com