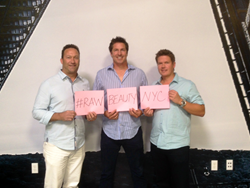 IRVINE, CA (PRWEB) September 19, 2014
In partnership with Raw Beauty NYC, OC healthcare agency StudioPMG has been an active part of the projects social media efforts. StudioPMG is honored to be a part of this movement, which aims to re-define the perception of beauty as it applies to disabled women.
The Raw Beauty Project began as an idea by Shelly Baer and Vanessa Silberman, who wanted to create a photo exhibit that showed disabled women as sexy and beautiful. Ginny Dixon, Wendy Crawford, Susan Solman and Sabrina Cohen later joined in on the collaboration and the first photo exhibit was created. The exhibit took place in New York in 2006 and featured twenty women with varying sensory and physical disabilities.
StudioPMG is connected to the project through friends and clients and wanted to support the 2014 project by developing and managing the social media and content strategy. From redesigning their Facebook page, to updating Twitter and Instagram, StudioPMG took the ideas and expanded on redefining perceptions across these multiple social media channels. A campaign using the #rawbeautyNYC hashtag was shared by the Christopher & Dana Reeve Foundation and has gained momentum viral across Twitter, Facebook and Instagram; with thousands sharing pictures in support of the project.
The opportunity to be a part of such a great cause that challenges stereotypes, thoughts, and perceptions of what true beauty is has been a remarkable opportunity for our agency, said Donald Nosek, SVP Strategy & Media at StudioPMG. We have enjoyed working with this community as a whole, and especially with the amazing ladies of Raw Beauty, to create a consistent voice across their social media channels.
The Raw Beauty Project New York will take place on September 20, 2014 at the ACA Galleries in New York City, NY. Proceeds from the event will benefit the Christopher & Dana Reeve Foundation in their continued effort to raise awareness about spinal cord injury and paralysis.

To learn more about this project or to donate please visit http://www.rawbeautynyc.com
About StudioPMG

http://www.StudioPMG.com Headquartered in the heart of Orange County CA, StudioPMG is a brand experience agency offering strategic digital marketing, software development, and creative services to clients in heavily regulated industries; including healthcare, pharmaceutical, biotechnology, automotive, and insurance and financial services. The digital agencys focus on bringing brands to life through innovative experiences, and its ability to engage audiences with uniquely crafted messaging, has earned the agency advertising industry recognition from The Clio Awards, The Webby Awards, The Stevies, The Telly Awards, and more. For over a decade, StudioPMG has leveraged its expertise in creative and strategy; mobile and web applications; paid, earned and owned media; experiential and live events; and analytics and integration to develop purposeful digital solutions that solidify the relationship between its clients brands and their intended audience.