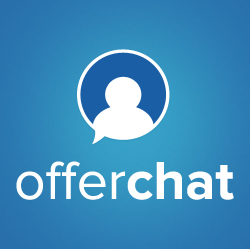 Lansing, MI (PRWEB) February 13, 2013
New Offerchat account holders will encounter a very brief tour of the Offerchat live online chat dashboard and a set of instructional mini-guides on how to get started in adding a live chat widget to websites.
Offerchat, a live support chat tool that allows one-on-one chatting between a customer service agent or website owner and a customer or site visitor, has strengthened its hold in the industry by emphasizing the tools ease of use.
The Offerchat dashboard tour was launched as an additional feature yesterday with the purpose of familiarizing new Offerchat account holders and their live chat agents in navigating the new dashboard released very recently. Helpful links for new account owners are also prominently displayed in the dashboard.
These links, dubbed as the "Getting Started Guide, point to a series of compendious articles found in the company's official blog. They include a step-by-step guide and screenshots on how to add a live chat widget to WordPress websites. WordPress is the most popular platform for many online business owners to showcase their expertise, products and services.
Another complete guide shows how to add the Offerchat live chat customer service widget on Shopify to help increase sales and conversions. The platform has long been hailed the most popular e-commerce platform for selling goods and merchandise online. There are also other e-commerce platforms the company plans to feature in the near future to attract users of these ecommerce websites.
Aside from installation guides, new Offerchat users will also find tutorials on how to customize the live chat widget to match their branding, add live chat agents, as well as how to activate the free premium live chat features being offered by the company.
According to an Offerchat insider, they are aiming to induce preference among online business owners to the Offerchat brand by presenting the live chat tool as not only a free premium live chat customer service tool but also an utterly user-friendly tool that's easy to install and exceedingly convenient to use.
Offerchats official blog is rife with insights on online marketing, ecommerce, customer service, branding and other discussions relevant in todays web and digital entrepreneur aside from the usual company announcements and helpful guides on live support chat.
About
Offerchat is a free premium live chat for websites specifically designed to help online businesses increase their conversions and sales. The chat tool is easy to add, full-featured and free of charge. Offerchat is brewed to perfection at Click Labs, Inc. a company based in Cebu City, Philippines. The company specializes in driving search marketing and social media traffic, social web app development and conversion optimization. Each product or service specifically helps small/medium website owners increase online visibility and improve online sales.

###