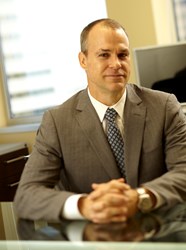 Dallas, Texas (PRWEB) September 15, 2013
Jeff J. Horn Jr., co-founder of international law firm Ohashi & Horn LLP, has been recognized by his peers in the legal community in the 2013 edition of Texas Super Lawyers, which identifies the state's top attorneys based on more than 70,000 peer nominations and independent research by the publication's editors. The final published list represents no more than 5 percent of the lawyers in the state. Mr. Horn maintains an extremely diverse international transactional and litigation practice that includes structuring, negotiating, and documenting complex international mergers, acquisitions, joint ventures, and strategic partnerships; commercial litigation; and establishing and maintaining intellectual property licensing and enforcement programs.
Mr. Horn has more than 20 years of experience related to Asia, including living in Japan for two years, and is especially adept at handling complex cross-border matters. Fluent in Japanese, Mr. Horn represents numerous subsidiaries and affiliates of well-known Japanese companies, and Japanese governmental organizations. He also represents U.S. companies in their efforts to penetrate the Japanese market and in negotiating agreements and resolving disputes with Japanese counterparties. Practicing in Dallas, New York, and Tokyothree of the worlds most competitive business centersMr. Horn has a proven track record of success. The challenges he faces in his international, multi-faceted practice give him an uncommon perspective and understanding of the global business environment in which his clients operate.
About Ohashi & Horn LLP
Ohashi & Horn LLP is a specialized law firm that represents a select group of clients in mergers and acquisitions, complex commercial litigation, labor and employment matters, and developing, managing and protecting intellectual property assets. The firm also maintains one of the largest practices in the United States that specializes in representing Japanese companies conducting business in the United States and U.S. companies attempting to penetrate the Japanese market. For more information, please visit http://www.ohashiandhorn.com.