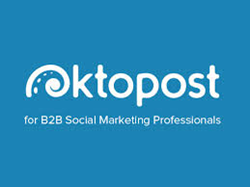 Tel Aviv, Israel & Barcelona, Spain (PRWEB) March 18, 2014
GetApp, an independent marketplace that helps businesses discover, compare, review and purchase business applications, today announced it has awarded its best rating to Oktopost, a social media marketing platform designed with the unique needs of B2B in mind.
Oktopost solves two of the biggest problems facing B2B marketers when it comes to social media today: the ability to post content on a large-scale across the social web and tools to see the ROI of their B2B social media marketing activities.
Oktopost gives marketers a straightforward way to publish content on social networks like LinkedIn, Facebook, Twitter, and Google+, and then track the performance of those posts using a series of detailed analytics tools. As soon as that content goes live, Oktopost starts collecting important metrics like clicks, conversions, leads, and comments. Oktoposts social analytics dashboard gives users a clear sense of how their marketing efforts are going and how they could be improved in the future.
According to GetApp, Oktopost is the only social media marketing platform that lets users see actual business value and ROI of their social media marketing by showing exactly which post generated a specific lead. What differentiates Oktopost from other social media management tools is that it doesnt shy away from LinkedIn, the popular professional network. The platform makes it easy to publish on multiple LinkedIn Groups at once.
Oktopost is incredibly useful for B2B marketers because the social media tools it provides align so closely with what they are looking for, said Stephanie Miles, GetApp reviewer.
Oktopost achieved the following ratings:
Overall: 10/10

Ease of Use: 5/5

Features: 5/5

Value: 5/5
Daniel Kushner, CEO and Co-Founder at Oktopost said, We are honored to receive the highest possible score from GetApp. With Oktopost B2B marketers can now quantify the exact value of their efforts."
To read the full review on GetApp visit:
http://www.getapp.com/blog/oktopost-review/
To learn more about Oktopost, please visit:
https://www.getapp.com/oktopost-application
About Oktopost
Oktopost is the first solution to establish the ROI of social media for B2B companies, bridging the gap between social media and lead generation. Oktopost delivers the true business value from social media, generating new sales and integrates marketing and sales in today's social-centric marketplace.
About GetApp
GetApp is the largest independent online marketplace that helps small to mid-sized businesses and startups discover, evaluate and manage the perfect business apps for their needs. Its mission is to support millions of users in their "best app" research with comprehensive directories, interactive search tools, side-by-side comparison tables, user reviews and app evaluation resources.
In addition, GetApp serves as a global online marketing channel for thousands of business application developers. GetApp operates primarily in North America and the U.K. It is privately owned and backed by Nauta Capital.