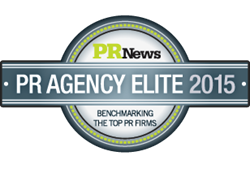 New York, NY (PRWEB) February 27, 2015
PR News PR Agency Elite Awards showcases the top PR agencies setting benchmarks of excellence in all client efforts. In its third year, this awards program is open to agencies in the United States and Canada of all sizes, including sole practitioners. The final entry deadline is this Friday, February 27, 2015 and winners along with honorable mentions will be recognized in fall 2015.
For more information on the PR Agency Elite Awards, visit http://www.prnewsonline.com/agency-elite2015
The PR Agency Elite Awards honor outstanding agencies based on overall performance and outcomes. Participants enter online through a user-friendly awards portal. This awards program will also shine the spotlight on the professionals raising the bar on creativity, strategy and execution for his or her agency. Entrants can nominate their peers or themselves by entering the Agency People Awe category.
Winners and honorable mentions will be awarded in the following:

By Practice Area: