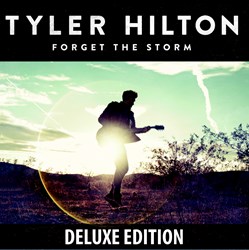 Los Angeles, CA (PRWEB) July 17, 2013
After a successful debut headlining tour in Europe in the autumn of 2012, singer/songwriter and actor, Tyler Hilton, will be returning to the U.K. and Europe again this autumn with another headlining tour in promotion of his next feature film Papa Noel and the new deluxe album.
The Deluxe Edition of Hiltons album, FORGET THE STORM, was actually inspired by his previous tour abroad, where he spent a lot of time touring as an acoustic act. From that experience, different versions of the songs developed, and Hilton loved the new evolution of the music so much that he wanted to re-record the tracks and release them as soon as possible. The result was the new Deluxe Edition (April, 2013), which includes 4 acoustic tracks and 1 brand new song that he wrote during a night off on the road, called Next To You.
The singer/songwriter is also known for his acting chops, including his role as Chris Keller in the CW television sensation, One Tree Hill and as Elvis Presley in the Johnny Cash biopic, Walk The Line. Currently, Hilton is busy filming for an upcoming movie, Papa Noel, which co-stars Hilarie Burton (also a One Tree Hill alumnus and one of his personal idols, country singer Randy Travis, which is slated to hit screens during the 2013 holiday season.
Of the upcoming tour, Hilton says: Im so excited to get back on the road in Europe. The last tour was so creatively fulfilling and the European fans were just amazing. Im looking forward to some more song-writing inspiration for my next record.
Tyler Hiltons second headlining European Tour will kick off in Paris on October 20th, and run through November 3rd, closing in Birmingham, UK [see full tour routing information below]. Exclusive VIP Meet & Greet tickets will also be available in select cities, giving fans early access to the venue, a private meet & greet with Tyler Hilton (including a photo and signed CD), and an intimate acoustic performance by Tyler before the main show.
For more information, visit http://www.TylerHilton.com. For any press-related inquiries or interview requests, please contact Alyson Campbell Roy of AMP3 Public Relations via 646.827.9594 or TylerHiltonContact(at)AMP3pr(dot)com.
TYLER HILTON EUROPEAN TOUR DATES:

October 20: Paris, France (Paris Etoile)

October 22: Leeds, UK (The Wardrobe 34)

October 23: London, UK (Islington Academy)

October 24: Portsmouth, UK (Wedgewood Rooms)

October 25: Brighton, UK (The Haunt)

October 27: Oxford, UK (Academy 2)

October 28: Amsterdam, Netherlands (Melkweg)

October 30: Manchester, UK (Club Academy)

October 31: Glasgow, UK (Oran Mor)

November 1: Nottingham, UK (Bodega Social Club)

November 2 & 3: Birmingham, UK (One More Shot UK)
About Tyler Hilton:
A native of Palm Springs, CA, Tyler Hilton is a musician, songwriter and actor. Hilton released THE TRACKS OF TYLER HILTON in 2004, the album included the top 40 singles When It Comes and How Love Should Be. Since the release, Tyler has toured with artists such as Taylor Swift, Gavin DeGraw, Goo Goo Dolls, Keith Urban and John Mayer. Hilton has also made a name for himself in the acting world, playing the role of a young Elvis in the Academy Award winning film, Walk The Line, where he also contributed two covers to the soundtrack. His other credits include the CWs One Tree Hill, VH1 series Single Ladies and the 2008 feature Charlie Bartlett. In April 2012, Hilton released his follow-up album, FORGET THE STORM, independently through his own label, Hooptie Tune Records, followed by a Deluxe Edition of the record in April, 2013.
About AMP3 Public Relations:
AMP3 Public Relations is a boutique PR firm located in New York City, specializing in consumer lifestyle campaigns focused in the areas of Arts, Entertainment & Hospitality. AMP3 specializes in three core areas of service including: traditional PR & media outreach, social media PR & online visibility, and special events PR & production. AMP3 has spearheaded publicity and social media campaigns for corporations, brands, fashion designers, artists, restaurants, consumer products, and websites of all sizes. As one of New Yorks top PR firms, the agency helps its clients communicate their concepts effectively to gain maximum exposure.