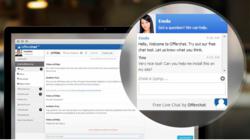 San Jose, CA (PRWEB) June 07, 2013
Search engine visibility, which is the exposure derived from being listed on the first page of a search query in Google or Bing, is one of the goals of any online marketer. SEO companies or agencies sell their services and expertise in ranking a client website at the top of search engine results pages or SERPs.
The Offerchat live chat software is an embeddable online chat widget with a web-based dashboard for support that can be used by SEO companies to revolutionize the way they communicate with people currently on their websites likely to be interested in their SEO or search engine optimization services.
An SEO company's site visitors are most likely business owners, bloggers, brokers, internet marketers and professionals with their own branded websites looking for help in exposing their websites to a greatest percentage of their target audience as possible.
Offerchat can fill in the communication gap and help an SEO company beat competitors in acquiring a client simply by being available for a chat at the most influential moment in the buying cycle.
Because availability entails expenditure in time, one could say that the live chat is a worthy investment and cost-effective one at that. Offerchat makes the main live chat tool rife with the most wanted features in live chat only available through monthly subscriptions in other providers.
The company built its business model around its live chat outsourcing service instead of the actual software. By making its basic online chat tool available to all, Offerchat is aiming to help fledgling online businesses propel themselves to growth and success through optimized conversions and sales.
SEO companies and their website managers will find that the customer-facing chat widget is fully-customizable in style, positioning and language. Interacting and engaging with site visitor inquiries can be done by logging in to the web-based back end control panel or dashboard.
Once inside, main account owners and their sales agents can go about providing superior live chat support before, during and after a transaction has been completed.
With Offerchat live chat, an SEO company can leverage the power of instant real-time communication with site visitors to gain more paying customers and loyal clients.
About Offerchat
Offerchat live chat is for online retailers, sellers and software as a service companies who must convert more visitors to actual buyers and users. It is a new way of handling live chat by providing not only a powerful free tool, but also the train staff to man the chat for you. Unlike other live chat companies, Offerchat has well trained live chat agents to staff your chat to help you close more sales.