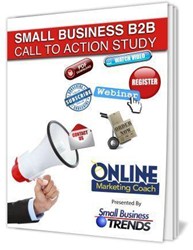 Broadview Heights, OH (PRWEB) August 06, 2013
Small businesses often fail to offer clear calls to action on their web sites, according to the new "Small Business B2B Call to Action Study" released today by Online Marketing Coach.
Presented by Small Business Trends, the study is based on an analysis of 200 U.S. small businesses in diverse B2B industries. (Web sites were randomly selected from a ReferenceUSA database of businesses with fewer than 100 employees.)
For example, 96% of small businesses don't offer how-to guides, white papers and similar thought leadership reports on their home pages. In fact, 70% don't display clear calls to action for other conversion opportunities on their home pages, such as specials, e-mail newsletters, demos, and interactive tools.
"We created the study to get a sense of how small business owners try to convert visitors into leads," says Mike Murray, president of Online Marketing Coach. "Unfortunately, theyre falling short at every turn. Too often the basics are lacking, such as a phone number thats tough to find or a company contact reference that may not stand out in the navigation. Relatively easy changes could make a dramatic improvement."
Get the complimentary study here: http://www.onlinemarketingcoach.com/small-business-b2b.
The study looks at more than a dozen call to action factors everything from placements "above the fold" to how small businesses display their e-mail addresses.
Here are some highlights: