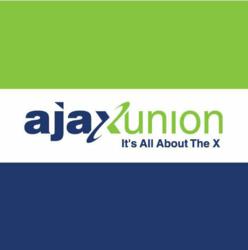 New York, NY (PRWEB) April 10, 2013
Ajax Union, a Brooklyn-based Internet marketing agency, is hosting a webinar focusing on the top three crucial SEO strategies for 2013. Scheduled for today, Wednesday, April 10, 2013 at 12:00 p.m. EST, the webinar will be hosted by the companys Vice President Sarah Mogin and Agency Manager David Gscheidle, and is presented with the support of Small Business Expo, Emerge 212 Boutique Office Space, and Webinars On Fire.
Since its inception, SEO has proved itself a perennially flexible system. With the ways in which search engines appraise the value of content constantly changing, it can be difficult to keep up with the latest developments. Thats why weve decided to develop an easy-to-follow webinar, in order to cut through confusion and offer interested parties an easily digested guide to the key SEO strategies for 2013. Whether a business owner is interested in updating their already existent marketing strategy, or simply looking to get started spreading the word about their products and services online, this complimentary webinar is sure to impart some essential tips for success, said Gscheidle.
This hour-long webinar will provide both an overview of the vitally important SEO strategies for 2013, as well as more specific tips to implement for success. An introduction will include a discussion on Setting Goals for Your Online Optimization Campaign, as well as advice on making ones first Internet marketing move, Where Should I Start? SEO vs. Social vs. PPC. Additionally, the SEO companys webinar will address Googles algorithm update Google Penguin in Google Penguin: New Standards in Linkbuilding. Other areas to be explored will include PPC advertising and Google AdWords, as well as conversion optimization and tracking.
Ajax Union holds a wealth of experience in marketing both B2B and B2C businesses online. With a proven track record to increase both brand awareness and generate sales, the company offers an array of online marketing month-to-month plans incorporating social media optimization, on- and offsite SEO, as well as PR and reputation management.
To learn more about Ajax Union, its varied online marketing strategies, keyword tracking tools, and other resources, find the company online at http://www.AjaxUnion.com. A detailed list of case studies showcasing Ajax Unions success in marketing several different businesses is available via the homepage. Alternatively, speak with a customer representative by calling 1-888-660-2486. The online marketing company can be found on several social media platforms including Facebook and Twitter, and also maintains a marketing blog.