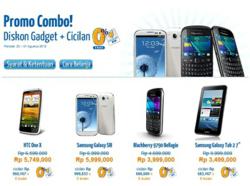 (PRWEB) September 04, 2012
Largest online marketplace in Indonesia Multiply has been committed to provide secure and convenient shopping experience for Indonesias shopping enthusiasts, including creating the best offers online. Recently, Multiply in conjunction with one of the biggest and most popular banks in Indonesia, BCA, released a new program which combines discounts for select and highly popular gadgets with BCAs signature 0% installment program for 6 months.
The curated products offered via this combo program includes HTC One X for the price of Rp 5,749,000 (original price Rp 6,599,000), Samsung Galaxy SIII for the price of Rp 5,999,000 (original price Rp 6,999,999), Blackberry 9790 Bellagio for the price of Rp 3,999,000 (original price Rp 4,699,000) and Samsung Galaxy Tab 2.7 for the price of Rp 3,499,000 (original price Rp 3.999.000).
All products offered through the program are available via the 0% installment program page and provided by Multiplys Trusted Sellers, ensuring money back guarantee and buyer protection.
In Indonesia, Multiply.com is presently the largest online market with 90,000 sellers and 7 million unique monthly visitors. Multiply offers products from categories such as fashion, beauty and health, baby & toddler, gadget, computer and many more. Having operated for a year and a half, the Indonesian office is the companys largest operational unit.
The Multiply team in Indonesia has been actively participating in educating the market on e-commerce and supporting the sellers community. Offering comprehensive online shopping features which enables social interaction between buyers and sellers, the Multiply platform also accommodates the way Indonesians transact by implementing payment methods ranging from bank ATM, e-banking, mobile payment and credit cards. Multiply also offers buyer protection which eliminates the worry of shopping online, even for first time users. Presently, Multiply, Inc. is under the leadership of CEO Stefan Magdalinski. As Country Manager of its Indonesian office is Daniel Tumiwa.
For Media Inquiries, please contact:

Nirmala R. Hapsari

Media Relations & PR Manager

Multiply Indonesia

+62 21 29303558

nirmala(at)multiply(dot)com