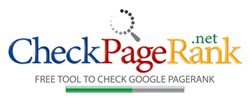 (PRWEB) September 20, 2013
Chicago, IL: OnlyOnlineMarketing.com (Affluent Media Group, Inc.) of Chicago IL, announced today that they have completed the acquisition of CheckPageRank.net, one of the top 10,000 most trafficked sites in the world, according to Alexa.com. CheckPageRank.net is a site used by website owners and webmasters primarily for testing a domain's Google PageRank, and also offers SEO services.
OnlyOnlineMarketing.com acquired the website and its customer base of advertisers and SEO clients from its previous owner in Kiev, Ukraine, effective September 2013. The team has a new vision for the site, and promises to deliver an even better service than before. Along the way, the site will get a slight design makeover, while still maintaining its core purpose.
CheckPageRank.net has been in operation for over 9 years and boasts some impressive traffic rates. It has long been a trusted resource to website owners and internet professionals and currently sees over 1,000,000 visits per year, from 220 different countries/territories around the world. The PageRank checking function is completely free to use. To check page rank on a website, a user simply needs to enter a domain name into the search bar and verify it with a small captcha. Then CheckPageRank.net displays the Google page rank and other important information about the site.
Affluent Media Group, which mainly operates as OnlyOnlineMarketing.com, has been in business for over five years, is based in Chicago IL, and is headed by founder and CEO, Adam Bilter together with his team of specialized online marketing experts. The acquisition of CheckPageRank.net is the biggest accomplishment for the organization so far, is a sign of great growth, and establishes Affluent as a global force in the online marketing industry. Together, Bilter and the staff at his online marketing firm hope to take their firm and their new site to a whole new level. They have a great foundation to start from.
Adam Bilter says the company will be "modernizing and giving CheckPageRank.net a design overhaul" in the coming months, and will, of course, still maintain its core functionality and purpose. That is sure to please the site's current following of internet professionals and business owners from around the globe.
About OnlyOnlineMarketing.com
Affluent Media Group, which mainly operates as OnlyOnlineMarketing.com, has been in business for over five years, is based in Chicago IL, and is headed by founder and CEO, Adam J. Bilter
Contact information
OnlyOnlineMarketing.com

Affluent Media Group Inc.

980 N Michigan Ave, Suite 1400

Chicago IL 60611

USA

Phone number: (312) 242-1664