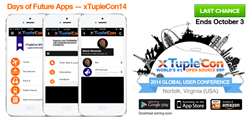 Norfolk, Virginia (USA) (PRWEB) September 17, 2014
With the addition of new event features, xTuple announced today the extension of open registration to October 3, 2014, for the Software Companys global user conference. Featuring an opening keynote and reception with Apple co-founder Steve Wozniak, and dozens of value-packed sessions in business, operations and technical tracks, the conference is attracting participants from around the world. The conference centers discounted hotel room block still closes Friday, September 19.
Past attendees to xTupleCon are enthusiastic about the depth and breadth of valuable business content available.
My attendance at xTupleCon more than paid for itself with one session. As a result of learning how to use xTuple data to comply with regulatory audits, we have gone through our ISO audit and year-end financial audit using the data in these custom screens. Rather than hunting around for copies of work orders, we had what we needed right there. Thanks to that information, we added screens for Raw Material lot traceability, employee training, financial records, and many more, shared Marsha H. Kitter, manager of finance and technology at CDB Corporation, a manufacturer of orthodontic appliances in North Carolina.
With less than four weeks to go before xTupleCon14, xTuples marketing team has published a mobile application for conference attendees, soon to be available on smartphones and tablets via the Apple, Amazon and Google Play app stores.
xTuple also announces the availability of a new technical workshop Browser-based, Plugin-free WebRTC Telephony for Web Applications on Wednesday, October 15, from 5:30 p.m. to 7:00 p.m. at the companys headquarters, within walking distance from the conference center.
Workshop leader Daniel Pocock is a Switzerland-based contributor for the Debian project, a leading distribution of the open source Linux operating system.
Open to all developers, even if not attending the xTupleCon14 conference, this complimentary evening workshop features open source WebRTC components and JSCommunicator, for which Pocock is the project founder, a full-featured phone, webcam and messaging application. The project provides an easy, high-level solution for designers and developers to add click-to-call and chat services on a website. Built with JavaScript and HTML 5, JSCommunicator can be used in any modern browser without installing any plugins. It is used as the base for the xTuple WebRTC extension and the DruCall WebRTC module for Drupal.
Register to attend the WebRTC Workshop via Eventbrite.
The 2014 events goal is to show growing businesses how to achieve 365 Days to ROI Return on Investment with improved business processes and supply chain operational benefits, in one year or less, for companies who follow time-tested and proven project management and implementation methodology.
Registration is required, and attendees may choose from two valuable 48-hour blocks of business networking and knowledge, or combine the two into a world-class four-day event.
> Register for Main Conference – Covers Tuesday evening through Thursday, October 14-16, which includes a VIP ticket to meet Apple co-founder Steve Wozniak, xTupleCon14's opening keynote, and the xTuple Community Awards Dinner.

> Register for Pre-conference only – Covers half-day workshops on Monday and Tuesday, October 13-14. (seating limited) Note: does not include VIP ticket to Wozniak event

> Register for Ultimate Combo pass – Covers both pre-conference workshops and the main conference. (seating limited)
So far xTupleCon14 registration has attracted valued customers, curious prospects, open source developers, users of the free PostBooks