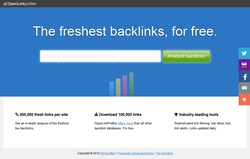 Staudt, Germany (PRWEB) February 11, 2014
Axandra, the company behind the popular web-based website promotion tool SEOprofiler.com, announced the release of the free link analysis tool OpenLinkProfiler.org (OLP). OLP is a tool that enables businesses to get a detailed overview of their website's backlink profile. Since Google started to penalize websites that have the wrong type of backlinks, analyzing the link profile of a site has become essential for any online business.


OpenLinkProfiler.org offers free access to data for which other companies charge high fees
Which pages link to a website and how do they link to the website? Are these links good or bad for the Google rankings of the site? These questions are answered by OLP. There are other companies that also offer this service but OLP offers it for free. In contrast to other link analysis tools, OpenLinkProfiler.org has several advantages:
Users can download 100,000 links per website for free.
There is no request limit (free account necessary).
It works with any website (not just your own website).
The backlinks can be sorted and filtered to find particular links quickly and easily.
Users can request email notifications when new links are discovered.
In addition to the free version, OpenLinkProfiler is also available in a paid version that offers these additional features:
Users can download 200,000 links per website.
The Link Disinfection feature shows users links that have a negative influence on the Google rankings of their websites.
OLP automatically creates a file for Google's disavow links tool.
It is likely that OLP will improve your website rankings
OpenLinkProfiler is a sophisticated tool that can help many different businesses:
Businesses that have been penalized by Google can use OpenLinkProfiler.org to recover their lost rankings
Businesses with a low link profile can use OLP to improve the backlink structure of their website.
Businesses who want to spy on their competitors' can use OLP to get an overview of their backlinks.
"After Google's latest ranking algorithm updates, analyzing the backlink profile of your website has become crucial to the success of any online business," said Andr