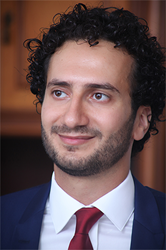 Montreal, QC (PRWEB) June 18, 2015
OPM Pros is proud to announce the hiring of one of the Search & Display industrys most sought-after senior professionals.
An SEM and Display service is something that has been in the works at OPM Pros for a while, says Paresh Vadavia, OPM Pros Co-Founder and CEO. With Abdo Mazloum at the helm, were confident we can offer these complementary services at the highest levels. He can see things from 20,000 feet and two inches – and he can add value to our clients in both ways.
Abdo comes to OPM Pros with an impressive CV. He graduated with a Computer Science degree from Bishops University and started his career as a Front End Web Developer. In this role at three different shops, he picked up a few white-hat SEO tricks, and successfully ranked a number of websites on the first page of Google for competitive keywords.
Knowing that marketing strategy was more in line with his passions, he switched disciplines and became an SEO/SEM Specialist and Team Lead at SSENSE. There, he created and implemented search engine optimization campaigns including on-page optimization, keyword research, competitor research, link building, content creation and social media; developed and managed online paid marketing initiatives of text, display and product paid ad placements on AdWords, Bing Ads, DoubleClick and several comparison shopping engines with combined monthly advertising budgets of hundreds of thousands of dollars; and managed a team of SEO/SEM specialists. His efforts in this role led to over a triple digit percent YoY increase in revenue on the SEO & SEM channels at SSENSE.
Most recently, Abdo was a Display Marketing Manager for Beyond The Rack Enterprises Inc., the fast-growing online private shopping club in North America where he managed their display, web analytics, and SEO campaigns while operating multi-million dollar advertising budgets annually. He also ranked 5th in the Biggest Search Geek Contest by Marin Software.
Abdos certifications include DFP Fundamentals for Traffickers, Google Analytics Premium Fundamentals, Ad Exchange Sell-Side Fundamentals, DoubleClick AdX for Buyers Fundamentals, DoubleClick Search Fundamentals, DoubleClick Campaign Manager, DoubleClick Rich Media Fundamentals, DoubleClick Bid Manager Fundamentals, Mobile App Analytics Fundamentals, Google Analytics Platform Principles, AdWords Advanced Display, AdWords Advanced Search, AdWords Advertising Fundamentals, Google Analytics Fundamentals and Bing Ads Accredited Professional.
At OPM Pros, Abdos portfolio will include paid search, display, programmatic media buying, comparison shopping engines, mobile strategy, SEO and web analytics.
About OPM Pros

OPM Pros is a global award-winning affiliate marketing agency that works closely with major retailers across North America, Australia and the UK to help them maximize their online revenues. Based in Montreal, Canada, and with three US offices (SC, NE and WI), OPM Pros specializes in affiliate program management across the full range of affiliate networks and verticals. Founded by Paresh Vadavia and Sonny Lamba in 2009, the company is counting over 30 full-time employees, a client roster of over 80 retailers, and multiple awards recognizing vision, innovation and financial performance of OPM Pros in the affiliate marketing field. The companys team members boast a collective experience of over 100 years in the industry.
OPM Pros manages the affiliate programs for major online businesses including 1800flowers.com, Beyond the Rack, Art.com, Staples Canada, Bowflex.com, Forever 21 Canada and Paulas Choice.
For More Information Contact: Paresh Vadavia, info(at)opmpros(dot)com, 514-341-7767 ext. 21
http://www.opmpros.com

@opmpros