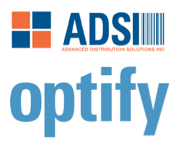 SEATTLE, WA (PRWEB) May 22, 2013
Optify and ADSI announced today that Network Products Guide, the industry's leading technology research and advisory guide, has named Optify and ADSI a Gold winner of the 8th Annual 2013 Hot Companies and Best Products Awards for Lead Generation Campaign of the Year. These industry and peer recognitions from Network Products Guide are the world's premier information technology awards honoring achievements and recognitions in every facet of the IT industry.
Prior to deploying Optifys Digital Marketing Software Suite, ADSI had no effective search optimization plan for generating leads for their sales team and had consistently low search visibility compared to competitors. A collection of Optify applications, including Lead Intelligence, Lead Scoring and Alerts, and the real-time marketing dashboard, helped ADSI stay focused while tracking their ranking and optimization progress. After one year of working with Optify, ADSI saw a 275% increase in leads from organic search. In the same time period, referrals from search increased by 119%. Overall, ADSI increased their leads by 2000% over a one-year period. The full case study can be viewed here.
Good search engine optimization tools and e-marketing strategies are critical to ADSIs continued growth, said Joseph Kohl, Vice President of Marketing for ADSI. As a result of Optifys consulting services and flexible dashboard, were able to continually monitor, refine and increase the effectiveness of our marketing plans.
An annual achievements and recognition awards program with active participation from a broad spectrum of industry voices, the coveted annual Hot Companies and Best Products recognition program encompasses the worlds best in organizational performance, products and services, hot technologies, executives and management teams, successful deployments, product management and engineering, customer satisfaction, and public relations in every area of information technology.
Our goal is to empower digital marketers with a software suite to help them overcome the cross-channel marketing and lead generation issues many organizations face today, and this recognition only further validates that, said Rob Eleveld, Optify CEO. Were honored to be recognized with such an esteemed industry and peer award.
Winners from all over the world were honored in Las Vegas on Tuesday, May 7, 2013 during the 8th annual dinner and presentations.
About ADSI

Advanced Distribution Solutions, Inc. (ADSI) is an industry-leading provider of flexible logistics management solutions for manufacturers, distributors, corporate campuses, online retailers, third party logistics providers (3PLs) and others. ADSIs solutions include Ship-IT, a multi-carrier transportation management solution for domestic and export shipping, and desktop shipping software or SaaS shipping software solutions, optional configurable modules for order picking & packing, delivery tracking software and more.
Founded in 1997, ADSIs customers include 1500+ installed sites located in the U.S., Canada and internationally. The company has established a reputation for responsive customer service, flexible support and a long-term commitment to helping clients address a wide range of shipping challenges. For more information, visit http://www.adsionline.com.
About Optify

Optify delivers a digital marketing software suite that is the industry standard for digital marketing agencies. Our complete cloud-based digital marketing platform empowers agencies to easily create and manage multiple lead generation programs, nurture the hottest prospects, prioritize the highest performing programs and streamline reporting of client results – all from one log in. Optify is headquartered near Pioneer Square in the heart of Seattle, Washington. To learn more about Optify, please visit the Optify website or the digital marketing blog.
About Network Products Guides Awards

As the industrys leading technology research and advisory publication, Network Products Guide plays a vital role in keeping decision makers and end-users informed of the choices they can make in all areas of information technology. You will discover a wealth of information and tools in this guide including the best products and services, road maps, industry directions, technology advancements and independent product evaluations that facilitate in making the most pertinent technology decisions impacting business and personal goals. The guide follows conscientious research methodologies developed and enhanced by industry experts. To learn more, visit http://www.networkproductsguide.com.