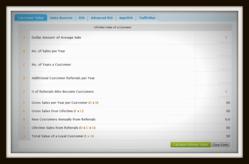 Corvallis, OR (PRWEB) March 31, 2013
Via the website LocalMarketingStrategy.biz, Oregon Local Deals LLC has created a suite of free tools that allows local business owners to calculate essential business metrics for their online properties, this according to Rebecca Veltri of Oregon Local Deals.
These quick assessments give local business owners step-by-step training on how to assess the return on investment for a website, online ad, social media marketing campaign, or even traditional print ads, without needing to spend their precious time grinding away doing grunt work," reports Veltri. "Generally speaking, local business owners went into business to do that business. The owner of the local pizza shop, went into business because she was good at running a pizza shop, not to post status updates on social media sites.
Traditional advertising such as radio and direct mail is effective for local businesses, but has historically been difficult to track. Online and social media marketing can be effective, but the learning curve can be costly and the results ineffective. Done incorrectly, these activities just don't provide the ROI business minded folks are looking for. If the same online marketing channel is utilized effectively, the return on investment can be phenominal"
Veltri explains the key difference between the traditional role of online marketing for local business and more traditional forms of marketing:
"All too often, local business owners invest substantial time and money in their website and social media sites, and they have no way of accurately measuring the potential return that they can realize on their investment. At the end of the day, it boils down to this: Was your website a liability that cost you money today, or was it an asset that made you money? If so, how much?"
Veltri invites local business owners to check out the online tool to find the answer to a very simple question: "What is the lifetime value of a single new customer? If I were to bring you one new customer today, how much would that customer be worth to your business for the duration of time they are your customer?"
Those wishing to find more information on strategic web development and marketing strategy should click here
To find the answer to this and even more online and social media marketing questions, visit: The Lifetime Value of A Customer Calculator
Oregon Local Deals LLC is an internet marketing consultancy focused on bringing together local communities in Corvallis, OR along with area businesses in Oregon and throughout the nation.