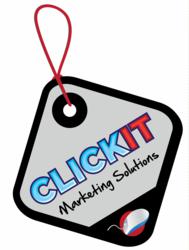 Orlando, FL (PRWEB) November 28, 2012
ClickIt Marketing Solutions, a leader in Orlando SEO and internet marketing solutions, has debuted the company's redesigned http://www.clickitmarketingsolutions.com website – offering more streamlined and up-to-date information about the company's online marketing and search engine optimization services.
The site's content has also been reorganized to showcase ClickIt Marketing Solutions main areas of expertise while making it easy for visitors to view supporting content such as blog posts, testimonials and other information.
The new design reflects ClickIt Marketing Solutions' leadership when it comes to SEO in Orlando, and the site includes information on each of the company's main services areas:


SEO
Internet Marketing
Pay Per Click Campaigns
Website Design
Social Media Campaigns
Blogging/Content Generation
"The redesigned site enables visitors to quickly access information while still being just a few clicks from any page," said Kollin Yelensky, President and CEO of ClickIt Marketing Solutions. "We want people to get a feel for the Internet marketing services we offer and the success our clients have had."
ClickIt Marketing Solutions has been providing search engine and Internet marketing solutions since 2010. The companys clients include insurance agencies, medical practices, roofing contractors and more.
Because our Internet marketing services fit a broad spectrum of industries, our content has been created to appeal to b2b and b2c companies – both large and small, said Yelensky. Once business owners who visit our site see the impact that proper SEO and Internet marketing can have on profitability, they tend to contact us for specific information about how our services can help improve their bottom line.
About ClickIt Marketing Solutions

Since 2010, ClickIt Marketing Solutions has been offering Orlando search engine marketing strategies and tactics that have reached millions. With a knack for creating search campaigns that positively impact business performance, ClickIt Marketing Solutions promotes local businesses in a way that brings companies to the top of search engines to drive more qualified traffic and leads. While many companies and businesses are underestimating SEO as viable elements in the marketing mix, clients of ClickIt Marketing Solutions are seeing tremendous results. To learn more, contact ClickIt Marketing Solutions today at 407-434-9104 or visit http://www.clickitmarketingsolutions.com.