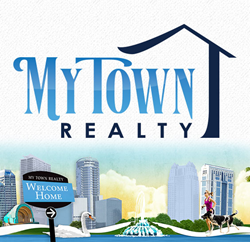 Orlando, FL (PRWEB) March 31, 2014
My Town Realty Corp, a full service real estate brokerage located in downtown Orlando, enthusiastically announces that it has officially opened its doors for business and, in turn, announces a change in the way you perceive buying and selling real estate.
"So often in the Real Estate industry, the Internet and social media markets are overlooked or, at best, afterthoughts used in a passive and somewhat reactive manner. My Town Realty plans to change that in a big way, says broker/owner Rob Sassos.
Rob goes on to say, An agile and aggressive market strategy is key to attracting and capturing buyers. The days of just putting a sign in the front yard, listing your property on the MLS and hoping for the best are long gone. You have to understand where the market is and where it is going and it moves fast. Its the difference between listing a home and selling a home; we sell homes.
Recent findings agree with My Towns philosophy. *A study by Google and the National Association of Realtors (NAR) (source) show that nine out of ten home buyers rely on the internet as a primary research source and 52% of all home buyers turn to the web first to begin their search. Mr. Sassos position on agile and aggressive marketing as key strategies, is reinforced some impressive Google statistics. Over the past four years, Google real estate related searches have increased by 253%. With a year-over-year growth of 22%. They also found that real estate related searches on mobile devices grew 120% year-over-year from 2011-2012. With the improvement of smart phone and tablet download speed and processing capabilities, this increase doesnt appear to be slowing down any time soon.
My Town Realty just isnt saying the right things. They also put their money where their mouth is by investing in their own in-house market research and web development department.
Rob continues If youre going to be proactive and keep your clients ahead of the curve, in-house is the way to go. Weve invested a considerable amount of money and research in this belief. It allows us to proactively adjust and optimize our clients buying or selling strategies to the latest social and economic trending and forecasts. It really is cutting edge stuff. We are able to provide the customer service and support of a local real estate company with the marketing and sales capabilities of a large national company.
Again, the numbers support their investment. Google trends found that 52% of first time home buyers started their home search on the internet and 77% of those first time home buyers drove by the homes they viewed on line.
"No one that I know of is doing what we are doing in the real estate industry. Mr. Sassos concludes, "…and thats just fine with us.
My Town Realty is a full service real estate brokerage catering to those who are looking to buy, sell or rent real estate in the Greater Orlando and surrounding markets. For more information visit http://www.MyTownRealty.com or call 407-647-2997