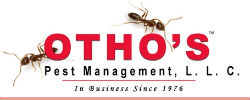 Asheboro, NC (PRWEB) February 08, 2013
It is indisputable that this winter has been mild for the country. It is only February, but the wet and mild winter so far may have given insects the opportunity to flourish. Othos Pest Management, a pest and wildlife control company servicing the Triad and Pinehurst, wants to warn residents to beware of how this weather can help bugs overrun homes. The best pest control is continued pest management practices, and Otho's is there to help with those bug blues and weather changes.
Due to the lack of cold weather, some insects will not go into hiding. Some even adapt to the environment and can eventually move into homes to stay. Homeowners often think there is no need for pest control this time of year because cold weather normally kills insects off or forces them into hiding, says Othos owner, Earl Smith. Failing to winterize can often attract more insects into the home. Like the early buds on trees in the Spring, some bugs can be tricked by the mild weather and even wake up from hibernation early.
Othos Pest Management is an experienced and licensed pest control company prepared to help residents stop the issues before they start. Othos also offers crawlspace moisture control treatments to keep moisture loving insects at bay. In addition, moisture is a major threat to a homes value. In fact, over time, serious structural damage can result from too much moisture in basements and crawlspaces. Determined to provide the best and safest pest control services, Othos is dedicated to giving customers the peace of mind of being pest-free.
About the company:
Established in Asheboro North Carolina 1976, Otho's Pest Management is family owned and operated. For over 36 years, Otho's has been serving the Triad area, Asheboro residents and businesses with safe pest control and transparent business practices. Maintaining the highest levels of technology pest management and business ethics, Otho's staff and pest control technicians are state certified or licensed. Getting rid of bugs, pests, insects, wildlife and critters – along with new and old construction treatments are our specialties. For more information, please visit their website at http://www.othospestmanagement.com.