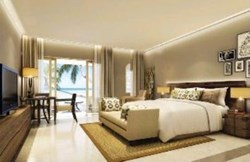 Honolulu, HI (PRWEB) January 28, 2014
Release Number: 10/14vUS
Download photos here: http://tinyurl.com/OUTMOR, Photo Credit: Outrigger Enterprises Group
Outrigger Enterprises Group is pleased to announce the opening of the Outrigger Mauritius Resort and Spa, which welcomed its first guests on January 30, 2014 (Mauritius time). The deluxe 181-room, all sea-view resort is the first for Outrigger in the Indian Ocean and the companys 45th property now open or under development in eight countries.
The expansion of the Outrigger brand into the Indian Ocean is the latest development showing the strategic commitment of Outrigger to open stunning resorts in desirable and iconic warm water beachfront locations around the world, said Darren Edmonstone, managing director, Asia-Pacific, Outrigger Hotels and Resorts.
Ownership of the property in Mauritius gives Outrigger the unique opportunity to share the locally-rich sense of place and discovery that guests look for when they go on holiday, he said. The wonderful warmth, color and exotic mixes that characterize Mauritius can now be experienced at the new Outrigger Mauritius Resort and Spa, he added.
The Republic of Mauritius is located 2,000 kms off the southeast coast of Africa and 1,100 kms from the east coast of Madagascar. In Mauritius the absolute beachfront property has an idyllic location on the southern tip of the island in the Bel Ombre nature reserve, adjacent to the Heritage Golf Club. The new Outrigger resort is surrounded on the landward side by expansive sugar cane plantations.
Outrigger purchased the property in May 2013 and has completed an extensive refurbishment program.
The Outrigger Mauritius Resort and Spa General Manager, Frederic Chretien, said: The Outrigger dream for Mauritius has come true. From today we are delivering our acclaimed Outrigger hospitality that blends the needs of the most discerning traveller with the charm and tradition of an early 17th century Mauritian sugar cane plantation on the islands southern coast.
Getting to Mauritius from Asia, Australia, the Middle East, Europe and Africa is easy. Direct flights connect Mauritius with Perth, Beijing, Shanghai, Hong Kong, Chennai, Delhi, Mumbai, Kuala Lumpur, Singapore, Paris, London, Dubai, Johannesburg and numerous cities in Africa.
The new Outrigger Mauritius Resort and Spa is a 45-minute drive from the islands international airport (MRU) and a 90-minute drive from the capital, Port Louis.
Outrigger will host an official grand opening ceremony and celebration on April 18th of this year.
For reservations visit http://www.outriggermauritius.com or email resa.mauritius(at)outrigger-mu.(dot)om.
For further information contact

Mr. Frederick de Marcy Chelin

Director of Sales and Marketing

Outrigger Mauritius Resort and Spa

EMl: dosm.mauritius(at)outrigger-mu(dot)com

Tel: +230 6235000; Mobile: +230 4994275

Skype: frederick.de.marcy.chelin
-###-
Editors can download images of Outrigger resort properties in Asia Pacific here
About Outrigger Enterprises Group

Outrigger Enterprises Group is one of the largest and fastest growing privately-held leisure lodging, retail and hospitality companies in the Asia Pacific and Oceania regions and continues to expand its presence throughout the area. A family-owned company with 66 years of hospitality experience, Outrigger runs a highly-successful, multi-branded portfolio of hotels, condominiums and vacation resort properties, including Outrigger