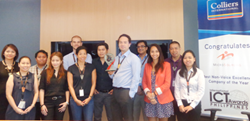 Metro Manila (PRWEB) March 28, 2014
Hundreds of companies were nominated in the Non-voice Excellence category, but only three were named finalists: MicroSourcing, Ingram Micro Philippines, and Maersk Global Service Centers. These companies were judged based on the following criteria:

Company growth
Size, quality, and diversity of companys clients
Depth and breadth of the companys competencies
Company management
Support by company of public goods
"Last year, we were a finalist in the fastest growing BPO company category. It is fantastic that we were able to win this year in one of the most sought after categories. MicroSourcing currently has about 2,200 employees, 65% of which are engaged in non-voice related processes. Winning this award shows that we are really at the forefront of non-voice and specialized outsourcing services in the Philippines," said MicroSourcing CEO Philip Kooijman.
MicroSourcing now belongs to the strong line-up of companies that won the Best Non-voice Excellence Company of the Year award in previous years: IBM (2012), Hewlett-Packard (2011), and SPI Global Solutions (2010).
The International ICT Awards Philippines is an annual event that recognizes the organizations and individuals who have made great contributions to the industry and helped in promoting the country and the Filipino talent. This event is organized by the Canadian Chamber of Commerce of the Philippines (CanCham) in association with the Information Technology Business Process Association of the Philippines (IT-BPAP).
About MicroSourcing:
MicroSourcing enables foreign companies to operate in the Philippines in an easy and effective way.
The business offers a number of service delivery models which focus on giving its clients more transparency and direct control over their offshore operations including low-risk ways of incubating and growing their Philippine operations. It provides these services over a wide range of disciplines including:
Creative & IT Development: creative services, web and software development, online marketing, content development, and online media management.
Knowledge Services: healthcare information management, technical support, finance and accounting, human resources, industrial design and engineering.
Business Support Services: call center services, administrative support, research and data processing.
MicroSourcing has over 2,200 employees working in the Philippine operations of more than 130 clients from all over the world. These clients leverage MicroSourcing's capabilities in the Philippines to grow their business in the most cost effective and flexible way.
For more information on MicroSourcing, go to http://www.microsourcing.com.