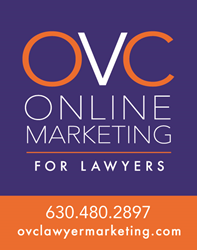 Chicago, IL (PRWEB) April 30, 2015
The Chicago-based online lawyer marketing company OVC, INC. is proud to announce that the company has earned Google Partner Status. Achieving this status means that Google now recognizes OVC, INC. as a trusted business partner.
As a Google Partner, OVC, INC. is officially qualified by Google to manage AdWords accounts for their clients. AdWords are advertisements, which appear on Google and its other display networks including YouTube. The OVC team is trained to recommend and implement the best practices in order to maximize their clients AdWords performance.
Google Partner status gives OVC, INC. access to the official Partner badge and Google Partner Search. This search feature is a special tool that AdWords advertisers can use to search for professionals to manage their accounts.
Additionally, OVC, INC is able to take advantage of exclusive special events, advertising training and industry research sponsored by Google to further enhance their digital marketing knowledge and services offered to clients.
The OVC Team is excited about joining the Google Partner program. I think this partnership opens the door to numerous valuable opportunities for our team and clients alike, says OVC, INC. President Greg Wildman.
Wildman is confident that this partnership will help OVC, INC. adhere to their client success commitment, which is also backed by the teams constant vigilance of website analytics and monitoring of search engine changes.
Wildman founded the online lawyer marketing company back in 2008 and has since grown the organization to include over 25 employees and over 200 attorney websites across the United States.
About OVC, INC.:

OVC, INC. provides cutting edge, affordable and customized online marketing solutions for lawyers. We strive for first page search engine results and exceptional conversion rates for our clients. The OVC Team consists of experienced web developers, content writers, graphic designers, digital marketers and SEO specialists from around the country.
The online lawyer company is committed to their outstanding customer service and effective execution in regards to legal content and web design. To learn more about OVC, INC. call (630) 480-2897 or fill out the online contact form.