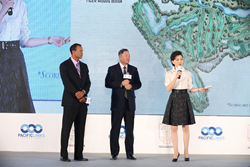 LAS VEGAS, NV (PRWEB) April 27, 2015
Pacific Links International today announced its flagship course in China with Pacific Links National Golf Club in Beijing. This prestigious club will be designer Tiger Woods first course in China and the start of Pacific Links rapid growth as the company works to bring luxury, western-style golf to the area.
We are building an exclusive program that will allow people to experience high-end golf clubs across the globe, said Mr. Du, Owner & Chairman of Pacific Links International. There is no other membership like this in China and Pacific Links National Golf Club, design by Tiger Woods, is an exciting step in this next phase of progress.
In the next three to five years, Pacific Links plans to acquire a dozen courses in Beijing and Tianjin and renovate the properties to create upscale golf clubs connected by cluster membership plans. Members will enjoy one home club membership and affiliate privileges at all courses in the cluster.
The company first launched its innovative membership plan in China just three years ago and currently has more than 3,500 members. Pacific Links offers its members access to some of the finest golf courses in the world, with a strong presence throughout North America, Asia and Australia. Members enjoy more variety, flexibility and a wider range of membership categories and prices than traditional golf memberships.
I am excited to be designing Pacific Links National Golf Club, a flagship course for Pacific Links, said Woods. Its an incredible opportunity to get to work with people who are fully dedicated to providing such high-quality golf experiences.
Pacific Links International members currently have access to a growing portfolio of more than 100 owned, affiliate and reciprocal golf clubs. Owned clubs are located in popular destinations such as Las Vegas, California and Hawaii. For more information, and a full list of courses, visit http://www.pacificlinks.com.
About Pacific Links International

Pacific Links International is a Canadian-owned golf corporation that provides member access to more than 100 quality golf clubs by some of the games greatest designers including Pete Dye, Greg Norman and Jack Nicklaus in signature golf destinations in North America, Australia and Asia. Pacific Links offers a unique membership structure whose main feature is reciprocal access to multiple clubs around the world with tour-quality design, strong character and the ability to deliver a memorable golf experience in a cosmopolitan golf location.
In Hawaii, Pacific Links owns and operates Royal Hawaiian Golf Club, Olomana Golf Links, Mkaha Valley Country Club (East), and Mkaha Golf Club (West), currently under renovation by Greg Norman. Pacific Links also owns Pete Dye Golf Club (#45 on Golf Digest's ranking of America's 100 Greatest Courses) in West Virginia, Dove Canyon in California and Southern Highlands, SouthShore and DragonRidge Golf Clubs in Nevada. Pacific Links is also nearing completion of the 27 Club in Tianjin, China, which is scheduled to open in 2015 and play host to the PGA Tours Pacific Links China Championship this September. Pacificlinks.com.
# # #
Media Contact: Amber Liptai | Martz Parsons |480-344-0163| aliptai(at)martzparsons(dot)com