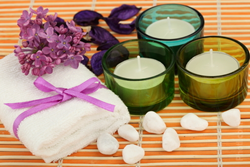 Denver, CO (PRWEB) April 08, 2014
Denver, CO, (April 8, 2014) – Lightning Labels, leader in printing custom labels and stickers, can help brands with packaging beauty products for Mother's Day on May 11. Preparing sweets and bath and body product labels is a smart way to get ready for this holiday. However, it's also important not to forget that less traditional gifts could also be appropriate.
"Mothers have diverse interests. While brands can't go wrong packaging beauty, bath and body products for Mother's Day, this is an opportunity for all kinds of businesses to grow sales," said AnneMarie Campbell, Business Development Manager at Lightning Labels." Take the opportunity this spring to package a variety of different products to be gift-ready for Mother's Day."
Flowers, candies, sweets, body and beauty products are always fair game in spring. To prepare for Mother's Day shoppers, brands can start making attractive packaging that can function as a present right off the shelf, or simply invest in stickers to draw attention to gifts that would make a good Mother's Day present. While consumers may not be thinking about shopping for their mothers yet, a small reminder can help them prepare.
Old and New Favorites Are Appropriate for Mother's Day Product Packaging

While bath and beauty products are a common choice, companies can extend Mother's Day product packaging to alternative gifts as well. According to the 2013 report from National Retail Federation, consumer spending for Mother's Day has been increasing steadily since 2009. In addition, shoppers didn't just shop for their mothers last May, but all of the women in their life, including wives, daughters, grandmothers and sisters. With this in mind, it makes sense for brands to broaden the picture of goods they typically associate with Mother's Day. The key is demonstrating to consumers that many different products can make good gifts for women.
Get Decorative With Mother's Day Beauty Products

Mother's Day beauty products are always in high demand. For Mother's Day marketing campaigns, consider bath and beauty products such as soaps, lotions, shampoos and bath scrubs. Mother's Day is a time for rest and relaxation, which means spas and pampering could be high on shopper's minds, including essential oils, perfumes and sprays. Because it's spring, using floral colors and designs is a good way to make items gift-ready right off the shelf.
Lightning Labels will be offering 10 percent off orders from April 9, 2014 through April 30, 2014, using promo code LLSPRING14 at checkout. Maximum discount is $ 1,000. Free ground shipping applies to orders placed online only and shipped within the U.S. and Canada. This offer is not valid on reorders and cannot be combined with any other offers or promotion. Visit Lightning Labels.com for more information or updated promotions.
About Lightning Labels:

Lightning Labels uses state-of-the-art printing technology to provide affordable, full-color custom labels and custom stickers of all shapes and sizes, and now offers a full line of custom packaging products. From small orders for individuals, to the bulk needs of big businesses, Lightning Labels is equipped to handle and fulfill sticker, label and product packaging projects of all types. Best of all, like the name implies, Lightning Labels provides a quick turnaround to every customers' labeling and product packaging needs. Uses for Lightning Labels' custom product labels and custom stickers include food packaging and organic food labels, wine and beverage labels, bath and body labels, and nutraceutical products, such as vitamins, essentials oils, and herbal remedies, as well as event stickers, adhesive window stickers and more. Lightning Labels strongly supports the development of environmentally friendly printing materials and carries EarthFirst PLA, a new kind of green label material made from corn instead of petroleum. While operating as a high-tech printer, Lighting Labels prides itself on its personalized customer service. Lightning Labels provides one stop shopping for all of your label and product packaging needs. For more information and to place orders online, visit LightningLabels.com. For the latest in packaging news and labeling promotional offers, find Lightning Labels on Twitter (@LightningLabels), Facebook, Pinterest, Google+ and LinkedIn.