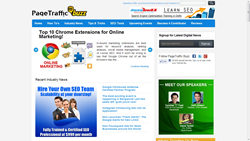 New Delhi, India (PRWEB) September 12, 2014
PageTraffic Buzz will be covering all the sessions of Pubcon Las Vegas 2014, the biggest social media and optimization conference of the year and giving latest updates of the event. The four day event will be held at the Las Vegas Convention Center, South Halls, from October 6-9 2014.
A member of the Pubcon organizing team said, Pubcon Las Vegas has been named a Forbes must-attend conference and an Inc. top conference to help you grow your business. This year Pubcon Las Vegas will feature some of the leading business in the industry, novices, speakers, keynotes, exhibitors, and sponsors involved in search, social media, internet marketing and online advertising. The keynote will be delivered by Ted Murphy of IZEA. Other luminaries who will be speaking at Pubcon are Jae Baer of Convince & Convert and Duane Forrester of Microsoft among others.
October 6 will host the Pubcon Las Vegas 2014 Masters group training. The Masters Group training will be only available to those with a stand-alone training day pass or the all-inclusive Pubcon Platinum pass. This will be followed by Agency and Enterprise Day on October 7, Content Marketing Day on October 8 and Pubcon Pro Industry Day on October 9. Registrations are open on the Pubcon website with special group discounts.
Just like every year, PageTraffic Buzz will be actively covering these sessions and sharing details with the readers on the official blog. The Editor-in-Chief of PageTraffic Buzz, Navneet Kaushal, will be sharing live event updates and tweets. PageTraffic Buzz is known for publishing the latest updates in the digital marketing industry. It has covered some of the biggest search and social conferences in the past including SEMPO, SMX, Search Engine Strategies, Telecrunch and many more.
Pubcon Las Vegas 2014 will be the biggest gathering of search and social media innovators. It is also the exclusive host to the second annual US Search Awards. The week long event will offer an insight into the future of technology by several of the worlds top innovators. The Las Vegas conference will present a collective and invaluable vision for the future by some of the whos who of the industry.
About PageTraffic Buzz:
PageTraffic Buzz is known for covering news, updates and reviews related to digital marketing since 2006. With more than 10000 posts on the portal, around 7000 RSS subscribers and more than 50,000 average monthly page views, PageTraffic Buzz is today one of the top SEO blogs. PageTraffic Buzz has also been an active participant in several digital marketing events in the past like Pubcon, Search Engine Strategies, SMX, Social Media Week and Ad:Tech, to name just a few.

###