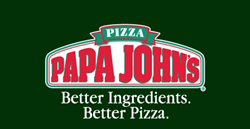 Coventry (PRWEB UK) 6 May 2015
The leading pizza chain is pledging that if a customer is not 100% happy with the quality of their food, Papa Johns will replace it like-for-like, free of charge. This comes following a pioneering partnership with Customer Engagement specialists, Rant & Rave, which invites all customers to rant or rave about their experience at the point of delivery via text message.
Since launching the campaign in April 2014, Papa Johns has received thousands of pieces of verbatim feedback which were uploaded onto an easy-to-read dashboard, enabling franchisees and the management team to quickly and easily see what their customers are thinking.
This has armed the team with invaluable insight as they embark on their launch of the Guarantee amongst their franchisees across the country.
Andrew Gallagher, senior marketing director for Papa Johns UK, said: Papas Quality Guarantee is about standing behind our belief and promise that our pizzas are of the highest quality, every time.
Introducing the Guarantee is a brave move but we are very confident in our abilities and in knowing our customers, and what they like and dont like. We hope this commitment to quality raises the bar within the UK pizza market as were the only company that offers 100% fresh dough and have such an experienced pizza maker as our founder who feels very passionate about the launch of the Guarantee, to ensure our customers always get what they deserve the best pizza possible.
Since launching a year ago, whenever a pizza is delivered, all Papa Johns customers receive a text message** asking them for their feedback. Customers can also visit the Papa Johns website to share their thoughts online via a feedback widget.
Andrew adds: Our partnership with Rant & Rave has been fantastic. Weve always had absolute faith in the quality of our product but we now feel even more confident as were armed with the knowledge of what our customers really think. However, well be continuing to take feedback from our customers, and acting on it to ensure were always evolving and improving.
Papa Johns was founded in the USA in 1984 and there are now almost 300 stores across the UK and more than 4,600 stores in 36 countries.
Dennis Fois, CEO at Rant & Rave says: Papa Johns is such a popular brand and undoubtedly this new move will endear them with their customers even further. They recognised that by engaging their customers and responding to their feedback theyll be able to develop lasting relationships and introduce new, and inviting methods of marketing like the ingenious Quality Guarantee.
Rant & Rave is an award winning provider of SaaS Customer Engagement solutions based in Coventry. They help organisations deliver a great Customer Experience, listing half of the FTSE as clients.
*Ends*
*Replacement pizza is like for like with not more than two slices eaten. Pizza must be exchanged. Guarantee does not apply to temperature or delivery time. In order to apply for a replacement pizza, customers can make the claim by downloading the new Papa Johns UK app for free through iTunes App Store or Google Play or by calling the Papa Johns store from which they ordered. For full terms and conditions visit http://www.papajohns.co.uk/quality-guarantee-terms.aspx.
**Text message will arrive an hour after order is made, except when deliveries are after 9pm at night. Customers will then receive a text message the following day.
http://www.rantandrave.com/ / http://www.papajohns.co.uk
Notes to Editors
About Rant & Rave

Its multi-channel solutions let brands proactively communicate with and gather fast feedback from their customers to manage and measure their experience. By providing solutions which are customer, not brand, centric Rant & Rave helps its clients to transform Ranters into Ravers and turn happy customers into lifelong advocates.
To find out more about Rant & Rave visit http://www.rantandrave.com.
About Papa Johns

Papa Johns was founded in the USA in 1984 and there are now almost 300 stores across the UK, each fulfilling Johns Better ingredients. Better pizza philosophy. Internationally Papa Johns has more than 4,000 stores in 33 countries.