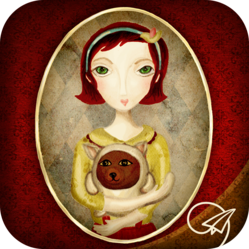 Singapore (PRWEB) May 16, 2013
Independent mobile app developer Paperplane releases its latest app and ebook collection on May 16th entitled Extraordinary Jenny Jones.
Aimed at kids aged 6 and up, the Extraordinary Jenny Jones Collection demonstrates the value and importance of children being themselves. Jenny Jones has a unique perspective of life because what the rest of the world sees as round, Jenny sees as square. And the other way round. Shes the original round peg in a square hole, with a way of looking at the world that is original, valid and valuable – like every child's.
The Extraordinary Jenny Jones Collection comprises a 70-page illustrated Read Aloud eBook and an interactive iPad app, which is the perfect marriage of a storybook and game designed to provide learning entertainment for children 6 and above.
Extraordinary Jenny Jones teaches children to believe in themselves and understand that their way of looking at the world is just as good as anyone else's, says the author John Sheterline. "In fact, a childs perspective is usually more interesting, valid and original than most adults."
The Extraordinary Jenny Jones app features:

More than 20 hand-illustrated interactive story spreads
Challenging hidden object puzzles to increase childrens powers of observation, memory and dexterity;
Delightful mini-games to enhance Jennys story
The Extraordinary Jenny Jones ebook includes:

50 fully illustrated pages and 20 additional pages of bonus content
Discussion and activity guide developed specially for the ebook by an English teacher
Exclusive interview with the author
The entire Collection is free during Jennys birthday month of May. From June, the Extraordinary Jenny Jones app will be available on the iTunes store for USD$ 3.99 and her ebook will be available on iBookstore for USD$ 5.99.
Jennys story leads children to an important cognitive developmental stage: the discovery of perspective. Children also learn an important moral message, that people will accept them for their alternative viewpoint and that they, in turn, should accept others who are different, said Dr. Neil Reddy, Paperplane's education consultant.
Extraordinary Jenny Jones is the third original interactive story from Paperplane and will be available from May 16th 2013.
About Paperplane Pilots Pte Ltd

Paperplane is an independent mobile app developer specializing in interactive stories and learning games for the iPad. We believe that stories transcend pens, paper or pixels, and our mission is to bring the infinite worlds of imagination within books to the touchscreen generation.
For more information, please visit http://www.paperplaneco.com
Contact

To learn more about the app collection, please contact

Chrissy Lim, Co-Founder

Blk 71 Ayer Rajah Crescent

#05-03

Singapore 139951

Office: +65 67777438

chrissy@paperplaneco.com
Links:

To download the app:

itunes.apple.com/us/app/extraordinary-jenny-jones/id633392398
To download the ebook:

itunes.apple.com/us/book/extraordinary-jenny-jones/id639576593
To watch the official trailer:

vimeo.com/paperplaneco/extraordinaryjennyjones
To download app icons, cover images and screenshots:

http://www.paperplaneco.com/downloads/EJJ_Art.zip