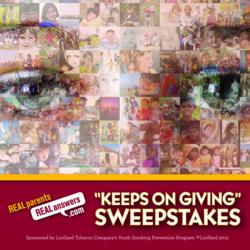 Greensboro, NC (PRWEB) August 22, 2012
Talking to kids about not smoking is a critical issue faced by many parents today. The youth smoking prevention program Real Parents. Real Answers. (RPRA) is working to raise awareness of the importance of talking to kids about not smoking and is bestowing generous rewards for parents who signify that they have undertaken this important task.
RPRA has launched a Facebook sweepstakes and is offering a mountain of cool prizes at the apex of which is a free family trip to Sea World.
The goal of the RPRA Keeps On Giving Sweepstakes is to reach 20,000 likes on the RPRA Facebook page, which can be found at https://www.facebook.com/realparentsrealanswers. Thats because the key to a vibrant online parenting community is to have other parents, facing similar challenges, to lean on.
At the 20,000-fan mark, one lucky winner will receive a free trip for four to Sea World. The trip includes flights, hotel expenses, Sea World tickets, and spending money.
However, RPRA will Keep on Giving at several milestone levels along the way doling out prizes at 2,500 Facebook likes (a $ 50 gas card to each of 25 winners); at 5,000 likes (an iPod Touch to each of 15 winners); and at 10,000 likes (an iPad to each of 10 winners).
Of course, each new fan only needs to like the RPRA page just once in order to become eligible for all of the prizes. The sweepstakes will last from now until the Facebook page receives 20,000 likes or until the end of 2012.
The Real Parents. Real Answers. Facebook page was created to encourage youth smoking prevention, but the page has evolved thanks to the participation of its followers into an all-encompassing resource on generalized parenting information. The community has embraced this forum and sets the agenda for the discussion, providing perspectives and motivation to make the most difficult parenting challenges seem easier to solve.
For more information on youth smoking prevention, including videos and quizzes for parents and children, visit http://www.RealParentsRealAnswers.com.