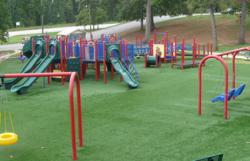 Lexington, Virginia (PRWEB) September 19, 2012
ParknPool, the leading online distributor of commercial outdoor furnishings and site amenities, knows that finding the funds to replace an existing playground or purchase a new one can be hard to come by. In order to fully exceed their clients expectations and enhance their earnings, ParknPool has compiled a guide concerning the best ways to raise money through fundraising and the steps that should be taken.
Their one-page guide touches on a handful of fundraising options including the adopt a part of the playground program. This program encourages involvement from local businesses and community service organizations. ParknPool suggests creating a sketch or plan of the potential play areas layout in which each major component is identified and priced. Funds are raised by taking the sketch around to businesses, organizations, parents and communities and asking them to adopt a part of the playground. Developing a way for the donors to be recognized whether on a single sign placed at the entrance to the play area or at each adopted unit, is a great way to help with your fundraising efforts.
Other fundraising suggestions are also mentioned in ParknPools Playground Fundraising Guide such as selling bricks of a sidewalk that will be inscribed with a childs name, a penny/coin drive and also the traditional bake sales and raffles. However a school, home owners association, or community chooses to raise money for their new playground, it is important that they ask for help, explained Laura Dudley, ParknPools Marketing Manager. Thats why this guide was created, to assist our clients in raising the money needed to provide children with the proper place to grow and learn.
ParknPool Corporation, also specializing in picnic tables, trash receptacles, park benches and bleachers, offers playgrounds and playground equipment for ages 2-12. Along with their fundraising guide, they have also recently released an interactive guide to playground safety. To learn more about ParknPools line of playgrounds or other commercial grade furnishings and site amenities, call 877.777.3700 or visit http://www.parknpool.com.
About ParknPool Corporation:

ParknPool is Veteran Owned SBE/WBE Company and is the leading online supplier of commercial outdoor furniture and site amenities such as picnic tables, trash receptacles, park benches and bleachers. ParknPool was begun in 1998 in Orlando, FL and moved their headquarters to Lexington, VA in 2005.