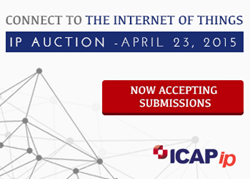 New York, NY (PRWEB) February 23, 2015
ICAP Patent Brokerage announces for sale an early portfolio covering wireless communication between mobile device and another device (such as a wearable), providing alerts, back up, security and data benefits, from Data Transfer and Communications, Ltd, as part of its Internet of Things IP Auction, with a bidding deadline of April 23rd, 2015.
Mobile devices and wearables are all too easy to forget, leave behind, or have stolen. This portfolio, with an early priority date of 2001, helps prevent crimes associated with stolen and lost portable data devices, says Dean Becker, CEO of ICAP Patent Brokerage.
Key Characteristics & Benefits

This technology prevents the potential loss or theft of a mobile phone and/or any portable data storage device. In addition, it wirelessly backs up the stored data on these portable devices onto a separate device the user could carry upon themselves such as smart jewellery, a smart watch, or other wearable technology.
Further, claims within the patent portfolio allow immediate security and recovery measures via instant notification to the network provider that a loss has occurred, enabling owners to track, block, and recover lost, data-rich portable devices.
In addition to the protection, tracking, and recovery of personal and/or corporate assets, this portfolio also addresses problems faced by other market sectors such as health and medical, mobile commerce, telematics and telemetry, and access and authentication systems.
Forward citing companies include Samsung, Qualcomm, Google, Good, Softbank, and Fujifilm.
See the technical description of the mobile device data communication IP sales offering.
To learn more about the intellectual property available for sale in this portfolio:

Contact Michelle Tyler of ICAP Patent Brokerage at (650) 741-4117 or via email at michelle(at)icapip(dot)com.
If you have a patent portfolio for sale, visit our website to make a patent portfolio submission for an upcoming sealed bid event:

http://icappatentbrokerage.com/auction/submitip/
Follow us on Twitter (@ICAP_IP) and join our LinkedIn group.
About ICAP Patent Brokerage

ICAP Patent Brokerage is the world's largest intellectual property brokerage and patent auction firm, leveraging the talents of experienced patent brokers to match buyers and sellers for the sale of patents and other intellectual property assets. With multiple transaction platforms and unparalleled industry knowledge, including experience with trademarks, brands, intellectual property licensing, and UCC sales, ICAP Patent Brokerage is the global leader in the transaction of intellectual property.