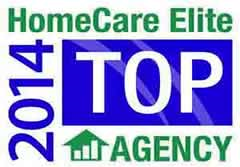 Sunnyvale, California (PRWEB) December 08, 2014
Pathways Home Health & Hospice was named a 2014 HomeCare Elite Top Agency by the National Research Corporation, an organization that tracks quality of care metrics within the home health industry. The HomeCare Elite award identifies Medicare-certified agencies and highlights the top agencies overall. Pathways Home Health is among the top 25 percent of Medicare-certified agencies in the United States to receive this honor. This is the third year in a row that Pathways Home Health has been recognized for top quality care.
The 2014 HomeCare Elite award is sponsored by OCS HomeCare by National Research Corporation, the leading provider of home health metrics and analytics, and DecisionHealth, publisher of the most respected independent newsletter, Home Health Line. Winners are ranked by an analysis of publicly available performance measures in quality outcomes, best practice implementation, patent experience, and quality improvement and consistency.
The 2014 HomeCare Elite winners demonstrate a commitment to providing high quality care in their home health communities and we recognize them for their remarkable achievements, said Mary Oakes, Senior Vice President of Post-Acute at National Research. We congratulate Pathways Home Health & Hospice on being recognized as a top home care agency.
Home health is an integral part of the healthcare safety net. Our patients depend on us to bring compassionate, quality care into their homes, said Georgia Rock, Pathways Chief Operating Officer. Receiving the 2014 HomeCare Elite recognition three years in a row is evidence that Pathways continues to provide the best care possible for our patients and community.
Pathways received high scores in several categories including improved patient communication patient breathing, and medication management. These scores translate into patients achieving greater independence, staying out of the hospital, and feeling better overall. In order to be considered, an agency must be Medicare-certified and have data for at least one quality outcome in Home Health Compare.
Pathways Home Health & Hospice is the one of the oldest home health and hospice organizations in the San Francisco Bay Area, having served patients in their homes for more than 37 years. Pathways offers home health care services in Santa Clara and San Mateo counties.

A non-profit healthcare agency, Pathways is affiliated with El Camino and Sequoia Hospitals. Pathways is also accredited by The Joint Commission an independent organization that endorses only those hospitals and home health agencies that meet the strictest standards.
The HomeCare Elite is the only performance recognition of its kind in the home health profession. The data used for this analysis were compiled from publicly available information. The entire list of 2014 HomeCare Elite agencies can be downloaded by visiting the National Research Corporation website at http://www.nationalresearch.com.
About Pathways Home Health & Hospice

Pathways Home Health & Hospice is a non-profit, community based organization which has served the Bay Area for over 37 years. Pathways was founded in 1977 by a remarkable group of Stanford physicians who saw the communitys need for professional care at home. That first year Pathways served 12 patients. Pathways now serves over 5,000 families a year in five Bay Area counties
Affiliated with El Camino and Sequoia Hospitals since 1986, Pathways Home Health & Hospice is accredited by The Joint Commission, and is a member of the Visiting Nurse Association of America, California Hospice & Palliative Care Association, and the California Association of Health Services at Home. Pathways Home Health & Hospice is a designated 2013 HomeCare Elite Agency for Quality Care.
For more information about Pathways services, grief workshops, volunteering, or making a donation in support of Pathways families, call 1 (888) 755.7855 or visit http://www.pathwayshealth.org/
About National Research Corporation

For more than 30 years, National Research Corporation (NASDAQ: NRCIA and NRCIB) has been at the forefront of patient-centered care. Today, the companys focus on empowering customer-centric healthcare across the continuum extends patient-centered care to incorporate families, communities, employees, senior housing residents, and other stakeholders.
Recognized by Modern Healthcare as the largest patient satisfaction measurement firm in the U.S., National Research is dedicated to representing the true voice of patients and other healthcare stakeholders. This integration of cross-continuum metrics and analytics uncovers insights for effective performance improvement, quality measurement, care transitions, and many other factors that impact population health management.
National Research is headquartered in Lincoln, Nebraska. For more information, call 800-388-4264, write to info(at)nationalresearch(dot)com, or visit http://www.nationalresearch.com.
About DecisionHealth