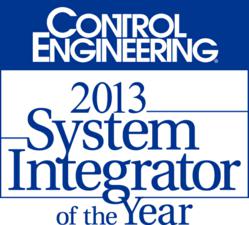 Auburn Hills, Michigan (PRWEB) December 18, 2012
Patti Engineering, Inc., a leader in control systems integration, today announced it has been named Control Engineering 2013 System Integrator of the Year. The company has been awarded this honor based on a panel of industry judges in-depth review of formal business practices, customer satisfaction and project success as performed during the design and implementation of automated control systems for industrial machinery, manufacturing lines, and other production facilities. The award is recognized in the automation industry as an excellence measure for quality, integrity, and professionalism and is bestowed upon only three organizations each year; one in each of their respective annual revenue categories.
Control Engineering magazine awarded this high honor to Patti Engineering for consistent, outstanding performance in all aspects of business operations including technical competence, business skills and customer satisfaction. Specifically, the magazines System Integration Editor Vance VanDoren, Ph.D., P.E., noted Patti Engineering impressed our panel of judges with their credentials, their customer testimonials, and their business systems designed to ensure the success of their automation projects. Patti Engineering specializes in a rather demanding segment of the automation market yet continues to satisfy their customers. The company is profiled in the December 2012 issue of Control Engineering.
Founded in 1991, Patti Engineering is a CSIA Certified Integrator and a recognized partner to many automation technology companies. Patti Engineering is a Siemens Solution Partner, an Authorized Mitsubishi Integrator, in addition to being in the integrator programs for Phoenix Contact, Iconics and Indusoft. The highly skilled team of engineers has technical expertise in the design and implementation of electrical control systems for a wide variety of clients: powertrain manufacturers, automotive parts plants, manufacturers using robotic paint systems, textile mills, retail distribution centers, power plants, oil rigs, chemical plants, and dam spillways.
Our engineers are remarkably talented with the ability to engineer innovative state-of-the-art solutions for complex control applications. This award is further demonstration of the success Patti Engineering has achieved in system integration and automation, said Sam Hoff, president, Patti Engineering. We are extremely proud to have earned the 2013 Control Engineering System Integrator of the Year award. Our dedicated engineers and staff are fully committed to diligently up-holding the excellence standard for which we earned this recognition.
About Patti Engineering, Inc.
Founded in 1991, Patti Engineering, Inc. is a CSIA Certified control systems integration company based in Auburn Hills, MI with offices in Massachusetts and Texas. Patti Engineerings technical expertise provides turnkey control systems integration services for design/build, upgrade/retrofit and asset/energy management projects; including project management, electrical engineering, hardware design, hardware procurement, software development, installation, calibration, start-up testing, verification, documentation, training and warranty support. Patti Engineering solutions are used in manufacturing facilities, retail distribution, municipalities, food industry, libraries, law enforcement, military, ice arenas and college/universities. Visit the Patti Engineering website at PattiEng.com and find us on Twitter, Facebook and LinkedIn.