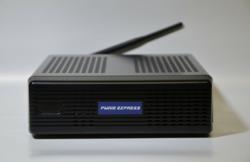 Berlin, Vermont (PRWEB) February 22, 2013
Pwnie Express is showing up at RSA2013 with a satchel full of pentesting goodies!
Pwnie Express is leading with the all new Enterprise Pentesting Appliance (EPA). The EPA addresses the Advanced Persistent Threat according to Jonathan Cran, CTO and Software Lead for Pwnie Express, The EPA builds on the value proposition of our earlier products in that it's designed to make the work of security testers easier, faster and more comprehensive. Equipped with Pwn Plug innovation, the EPA enables coverage of a large number of remote offices, persistent pentesting functionality and centralized management capabilities. According to Cran, the EPA has a dual-core 2.66Ghz processor and 8GB of ram, more than enough to get the job done with Nessus, NeXpose, or other commercial scanners. Support for KVM also means Windows VMs with commercial Windows tools can be added. Pwnie Express has equipped the EPA with a 4G adapter, and both a wireless and bluetooth card that support monitor mode and injection (wireless). The EPA also supports common ZigBee, SDR and RFID radios.
Pwnie Express is also announcing the release of the industry-re-defining Pwn Pad, a tablet, loaded with wired and wireless pentesting tools. Adding to the robust line-up of tools that address the human threat (insider threats, social engineering and security awareness), the Pwn Pad provides professionals an unprecedented ease of use in evaluating wired and wireless networks. "Building and innovating devices like the PwnPad at Pwnie Express is what makes our work unique, valuable, and fun.