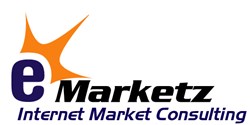 (PRWEB) October 10, 2013
Has your website or blog been impacted adversely due to Google's recent Penguin 2.1 algorithmic update? In fact, a lot of webmasters have seen their website disappear from Google rankings after Matt Cutts announced launch of penguin 2.1 on 4th October. While this news is still spreading, EMarketz has already developed a comprehensive plan on what to do and what not to do for ensuring long term business sustainability of web businesses.
To Do List:
1. Build a new website with different domain extension: If the website was on .com, try .net, .co or other relevant extensions.
2. Use a theme from WordPress.com (Not wordpress.org), write fresh content for this website.
3. Start PPC(Google Adwords) Campaign for this new website.
4. Find out the links of your website using tools like Majesticseo, Opensiteexplorer or Ahref and get as many links removed as possible.
5. Find a reliable digital marketing company which can help with all this (Do points above) in this time of stress.
To NOT Do list:
1. Do not use disavow tools right away at webmaster panel of Google. Wait for a month to carefully select the links which really need to be removed.
2. Do not start building a mirror site with same content as it can get caught as website with duplicate content.
3. Do not renew paid listings even if they are at business.com or botw.org. They might get caught in the next Penguin update, which is expected to hit in another six months.
4. A lot of forums with discussions on this update are not to be trusted. Do not follow these discussions closely and many of them are sponsored and invite you to order some services.
To take care of the above points, EMarketz India Pvt Ltd, has started consulting and web business rebuilding packages starting at $ 500. Write to them at sales(at)emarketz.net.
Launching this package, sales director of EMarketz India Pvt Ltd, Puneet Chadha said that "he is confident that Google is taking right steps in eradicating link spammers and making internet clean and more meaningful."