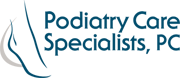 West Chester, Pennsylvania (PRWEB) May 20, 2015
Eastern Pennsylvania institution Podiatry Care Specialists, PC has launched a new interactive website to educate patients on a variety of foot and ankle conditions.
The podiatry practices newly-refashioned website was developed by Virginia-based content development firm Foster Web Marketing. The goal of the redesign was to provide patients with information needed to make educated choices about their foot and ankle care. The practices new online home addresses a wide range of foot and ankle complaints, such as arch and heel pain, fungal nail infections, running and sports injuries, ingrown toenails, plantar warts, bunions, and more.
The foot and ankle doctors at Podiatry Care Specialists, PC are dedicated to keeping patients of all ages active, happy, and pain-free. The five podiatrists who operate within the practice counsel patients on possible complications of their conditions, advise them on lifestyle choices, and go the extra mile to keep patients on their feet for years to come. The new website also encourages patients to give feedback on their services to help ensure Pennsylvania residents receive the very best of care.
Podiatry Care Specialists, PC has been in operation for over 30 years. Its board-certified podiatrists are available in five different office locationsin West Chester, Newtown Square, Exton, and Audubonto better serve the needs of patients. Patients can also find driving directions to each clinic location and download forms for their appointments from the website to expedite their visits.
To learn more about Podiatry Care Specialists new website we invite you to visit http://www.podiatrycarespecialists.com.
About Foster Web Marketing:
Founded in 1998, Foster Web Marketing (FWM) offers attorneys, physicians, and other professionals across North America and overseas an effective online marketing approach that combines appealing and intuitive design with the latest search engine optimization, comprehensive marketing services, and content management strategies. FWM has proven that it is possible to build a Made in the USA business with excellent customer service in a very competitive market, all while helping its clients succeed through powerful websites and proven education-based marketing techniques using its proprietary secret weapon, Dynamic Self-Syndication (DSSTM). To learn more, please visit http://www.FosterWebMarketing.com.