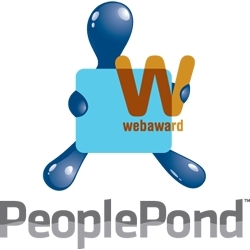 Ferndale, WA (PRWEB) September 16, 2009
PeoplePond (http://www.peoplepond.com), a leading online service providing increased personal brand visibility, easy reputation management and advanced identity verification services within a single platform, announced today it has been recognized with the 2009 WebAward for Outstanding Achievement in Web Development. The Web Marketing Association's WebAwards has recognized PeoplePond with their Marketing Standard of Excellence award.
There are 96 industry categories and each site goes head-to-head with other sites from all over the world in their categories. WebAward judges represent various relevant disciplines and are distinguished experts in their fields. Judges include members of the media, advertising executives, top web site designers, content providers, and webmasters.
"Competing against best-of-breed sites and receiving valuable feedback from the judges provides us with excellent opportunities to continue improving our site," said PeoplePond president, Theron McCollough. "Being recognized with the Standard of Excellence Award is also an exciting affirmation that we are on the right path."
PeoplePond users create online profiles designed to provide their online identity with greater visibility in online search results by training search engines to provide higher ranking to their social media, social networking, blogs and other online assets. Each PeoplePond profile is designed to provide the owner full control to implement a search engine optimization (SEO) strategy that consolidates, verifies and boosts visibility for their entire online identity. Leveraging PeoplePond's advanced personal identity verification and online asset ownership authentication, the opportunity for someone to hijack another's personal brand is greatly reduced.
PeoplePond recently launched a sister site, CompanyPond, that boosts visibility of a company's online identity by leveraging the numerous PeoplePond profiles a company has. This also trains search engines to promote online content produced by staff, evangelists, board members, etc. in their company's search results.
About PeoplePond

PeoplePond (http://www.peoplepond.com) and CompanyPond (http://www.companypond.com) are part of the Cranberry Venture Partners, LLC network of Web sites. Cranberry is home to an unmatched team of innovative developers led by Internet visionary David McInnis. McInnis is best known for founding the first direct-to-consumer news service, PRWeb, which changed the way the world uses press releases. For more information about PeoplePond, LLC and the Cranberry Venture Partners, LLC network of Web sites visit http://www.cranberryventurepartners.com.
About the Web Marketing Association

The Web Marketing Association is working to create a high standard of excellence for Web site development and marketing on the Internet. Staffed by volunteers, it is made up of Internet marketing, advertising, PR and design professionals who share an interest in improving the quality of Website development and marketing on the Internet. Since 1997, the Web Marketing Association's annual WebAward Competition has been helping interactive professionals promote themselves, their companies, and their best work to the outside world. Now in its 12th year, the WebAward Competition has become the premier award event for Web developers and marketers worldwide.
###