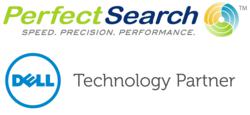 Austin, TX (PRWEB) October 12, 2011
Perfect Search Corporation, the only enterprise search company that is a member of the Dell Technology Partner Program, announced today its sponsorship of Dell World, taking place October 12 -14 at the Austin Convention Center in Austin, TX.
The theme of this years event is Unlocking Innovation in the Virtual Era. Perfect Searchs relationship with Dell is a tremendous example of teaming together to bring powerful innovation to Dell customers with unparalleled search relevancy and scalability across the enterprise, said Perfect Search CEO Tim Stay. Perfect Search and Dell have been able to bring the ability to search not only the meta-data of the stored data, but the full text content stored on the Dell DX Object Storage platform.
Perfect Search has developed a patented, innovative new way of doing search that can do remarkably faster queries, handle more data, and provide more relevant results than any other search technology solution.
Perfect Search enables users to search all the data stored within the Dell DX Object Storage platformsearching both meta information associated with the file, as well as unstructured and full text content within the object store. This is unprecedented in the storage industry and is made possible with the Perfect Search Appliance.
Our customers want quick and accurate retrieval of the right enterprise data across increasingly large and unstructured data sets, said Brett Roscoe, executive director, data management solutions, Dell Storage. Natively integrated with the DX Object Storage Platform, Perfect Searchs technology provides this capability through advanced search relevancy, scalability and speed.
About Dell World 2011

Join us at Dell World 2011 Unlocking Innovation in a Virtual Era. Bringing together top IT visionaries, leaders and experts, Dell World attendees will learn about and share some of the most innovative strategies and techniques taking place in IT today. Learn more at http://www.DellWorld.com or follow #DellWorld on Twitter.
About Perfect Search

Perfect Search Corporations patented technology delivers its customers the industrys fastest, most precise, most scalable, most cost-effective enterprise search technology. Offering both search engine SDK for OEM and search appliance solutions, Perfect Search enables enterprises to find the information they need when they need it. Learn more at http://www.perfectsearchcorp.com.
###