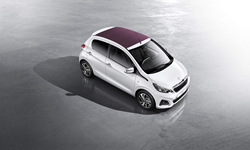 (PRWEB UK) 4 March 2014
Peugeot is treating motoring enthusiasts to a first glimpse of its all-new 108 at the 2014 Geneva Motor Show.
The car manufacturer will showcase two new 108 models when the show opens on Thursday 6th March, with a press preview on Tuesday 4th March.
As well as being the latest addition to the Peugeot city car range, the 108 is the first Peugeot city car in recent years to be produced in two body styles, with a hatchback and a retractable fabric roof variant the TOP! Cabrio. The TOP!s roof can be opened at the flick of a switch for sporty summer driving.
The car features a compact design to cater to the demands of modern urban motorists, measuring 3.47m long and 1.62m wide. It provides 196 litres of boot space, whilst its interior enables drivers to improve their driving position and their view of the road ahead.
Visitors to Peugeots motor show stand will be able to find out more about the personalisation options available on both versions. The 108 TOP! will be launched with a choice of Black, Grey or Purple Berry fabric roofs, whilst the hatchback will be available with a duo of two-tone paint finishes.
Attendees at the Geneva Motor Show 2014 will also be able to get a closer look at the technologies featured on the vehicle, such as Mirror Screen and Open & Go.
Mirror Screen allows drivers to use the 108s 7-inch touch screen to display compatible applications from smartphones running RIM, Apple IOS, Windows or Android operating systems.
Open & Go makes city driving easier than ever. With the push of a button, drivers can start the 108s engine, unlock its doors, and partially open its tailgate.
Xavier Peugeot, product director, Automobiles Peugeot, said: The new Peugeot 108 proves that the brand attaches the same importance to all segments. The move up-market is a promise that we will keep for all of our customers, whatever the segment.
Pascal B