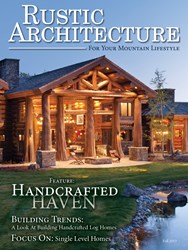 Meridian, ID (PRWEB) October 02, 2013
Rustic Architecture is one of the first digital publications to include a wide range of interactive features, across multiple digital platforms. These features expand stories and articles with additional photos, plan ideas, and examples.
"When we decided to create the publication, we knew that interactive content was vital," Publisher James Banner said. "We wanted to take advantage of everything this new digital format would allow."
Interactive content within Rustic Architecture allows readers to access additional information. For instance, in the first issue, readers can swipe their tablets to see five different strategies for designing single levels while reading an article about the design of single level layouts. In another example, readers can tap on sections of featured homes to see the floor plan expand in relation to what room they are looking at.
"Using the interactivity was a perfect way to add relevant content in an exciting way. We have over 50 regular pages, plus the equivalent of 20 pages more in dynamic information," Mr. Banner said.
Rustic Architecture is available to the majority of tablet users, including those that use either Apple iOS or Google Android operating systems. The application will soon be available on Amazons Kindle Fire.
"It was important to us that the publication, which is only available digitally as an app, worked on as many platforms as possible," Mr. Banner said. "Of the magazines we have seen on the digital market, Rustic Architecture is one of the few that has interactivity in all three of the major app outlets."
Rustic Architecture was created by PFB Custom Homes Group as a way to reach new audiences, interested in mountain style homes. The content is geared not only for those who may intend to purchase a custom home, but also anyone who is looking to remodel or those who just love these classic American dwellings.
The magazine articles will range in content from architectural design ideas to construction techniques. Each issue will also feature three completed homes with commentary from the architectural designers and home owners. In another reoccurring section called Snapshot, specific locales where mountain style homes are often built will be highlighted. This first issue showcases the resort area of Cle Elum, Washington.
Rustic Architecture will be published digitally four times a year. Tablet users can choose to purchase single issues at $ 3.99 or a 4-issue subscription for $ 12.99. The magazine is available on the iTunes App Store, Google Play, and soon on Amazon.
About PFB Custom Homes Group:
PFB Custom Homes Group brands are part of Precision Craft, LLC, a wholly owned subsidiary of PFB Corporation. PFB Custom Homes Group includes the brands: Riverbend Timber Framing, PrecisionCraft Log & Timber Homes, and Point Zero Homes.