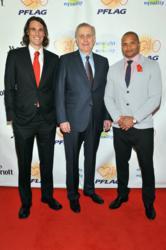 New York, NY (PRWEB) April 05, 2013
PFLAG National last night held its fifth annual Straight for Equality Awards Gala at the New York Marriott Marquis. Straight for Equalitya nationwide outreach and education project created by PFLAG Nationaleducates and empowers straight allies to advocate for and support lesbian, gay, bisexual and transgender (LGBT) people.
This years honors went to Sir Patrick Stewart (X-MEN: DAYS OF FUTURE PAST; STAR TREK: THE NEXT GENERATION; MATCH), award-winning author John Irving (THE WORLD ACCORDING TO GARP; IN ONE PERSON), NFL players Brendon Ayanbadejo and Chris Kluwe, and Whirlpool Corporation
Lizz Winstead (Co-Creator, THE DAILY SHOW) hosted the evening, and was joined on stage by actress/singer Eden Espinosa (WICKED), who provided the evenings entertainment. Others appearing on stage included actor John Benjamin Hickey (THE BIG C; THE NORMAL HEART), multi-award winner Joel Grey (CABARET; WICKED), and former NFL Commissioner Paul Tagliabue.
Tagliabuethe first former high-ranking official of the NFL to speak out on LGBT equality and acceptancespoke not only of his personal connection to the cause of LGBT equality as a longtime PFLAG member and the father of a gay son, but as an advocate for LGBT equality in sports.
Said Tagliabue, "Chris and Brendon understand that as long as professional sports are not welcoming both in fact and in perception to athletes who are LGBT, and as long as the ethos of professional sports is perceived to be homophobic, then children and adults who look to athletes in admiration and for inspiration will echo what they see."
Ayanbadejo and Kluwe reaffirmed the critical need for allies in professional sports as they accepted their awards from Tagliabue.
Honoree John Irving echoed Tagliabues simultaneous personal and professional support for LGBT equalityafter writing about a number of LGBT characters in many of his novels over the years, his own son came out.
Sir Patrick Stewart not only graciously accepted his Straight for Equality in Entertainment Award, but asked award presenterand longtime close friendJoel Grey to serve as best man at his upcoming wedding to singer Sunny Ozell. Sir Ian McKellen will officiate at the ceremony.
Aside from the awards, the evening also included smart and hilarious commentary by Winstead, a moving musical performance by Espinosa, whose album LOOK AROUND remains on the charts on iTunes, and a lively auction featuring items donated by Marriott, Whirlpool and American Airlines.
Also announced at the event was PFLAG Nationals partnership with The Ally Coalition (TAC), an organization founded by the band FUN. and designer Rachel Antonoff. Much like PFLAGs own threefold mission of support, education, and advocacy, TAC believes it is the responsibility of allies to support LGBTQ causes and speak out against discrimination through education, awareness and advocacy.
Images from the PFLAG National Straight for Equality gala can be found on WireImage.
Founded in 1972 with the simple act of a mother supporting her gay son, PFLAG is the original family and ally organization. Made up of parents, families, friends, and straight allies uniting with LGBT people, PFLAG is committed to advancing equality through its mission of support, education and advocacy. Now in its 40th year, PFLAG has more than 350 chapters and 200,000 supporters crossing multiple generations of American families in major urban centers, small cities and rural areas in all 50 states. To find out more about PFLAG Nationals programs and services, please visit us at http://www.pflag.org.
Straight for Equality is a project of PFLAG National. It was launched in 2007 to invite, educate, and engage straight individuals to have the discussions necessary to move equality forward for their gay, lesbian, bi, and transgender friends in simple, nonpolitical ways. Learn more at http://www.straightforequality.org today.