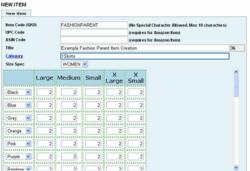 Los Angeles, CA (PRWEB) June 26, 2012
PhiConnect.com, a leading provider of e-commerce platforms and multi-channel management, announces new and easy ways to create and manage variation items for storefront, eBay and Amazon sellercentral. For clothing, shoes and fashion accessory item sellers, it has been very hard to create and manage listings of color and size variation items.
For instance, if they have 3 colors of clothing with 3 different sizes, they need to create and manage 9 variation items. They need to also one parent item to post eBay and Amazon offering 9 different child item options. It was almost impossible to have smooth transaction between listing, order processing, managing inventories and finally shipping management. Wait no more for introduction of new ways of handling multi variation items for eBay, Amazon and own storefront.
By adapting PhiConnect Enterprise solution, e-retailers can now easily create a parent item for uploading eBay and Amazon and select combination of size spec and color options to create multiple child items with few clicks. These multi variation child items will be automatically linked to the parent item when it is uploaded to eBay, Amazon and/or Storefront. Pre-generated SKU, item code, will also be attached to the custom field of eBay listings for later use of order processing and inventory control. The same SKU will be used for Amazon so that multi-sales channel inventory control and order processing will take place.
Once again, PhiConnect did a good job creating multi-variation items for eBay and Amazon. This new feature will help many fashion related online sellers spend much less time on listing, inventory control, order processing and shipping management everyday, said Daniel Kim, Project Manager of PhiConnect.com
PhiConnect.com also offers a free consultation. An e-commerce specialist will have an online demo session with you with many suggestions and guidance.
About PhiConnect:
PhiConnect was developed by a Yahoo! Store user, eBay Titanium PowerSeller and Amazon seller, with 12 years experience. PhiConnect has helped many multi-million online sellers of multi-channels to reduce the time and labor of their inventory control, order processing and listing management. PhiConnect also offers an own storefront and shipping modules so sellers do not need switch between different software. PhiConnects all-in-one platform can save time and money because online retailers will not need to subscribe to storefront, listing management, inventory control, order processing, and shipping module services separately.
PhiConnects platform gives online retailers the ability to distribute their product to multiple marketplaces including eBay, Amazon, Buy.com, Google Product Search, Shopping.com, PriceGrabber, and Shopzilla. Additionally, PhiConnects automatic SEO feature can generate meta keywords, meta description, and URL rewrite automatically for search optimization for Google and Yahoo. For further information, please visit PhiConnect.com.